Silca provides a role model for woodworking students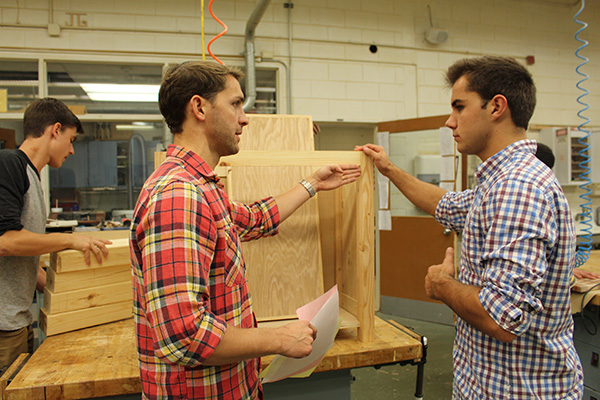 There are constant sounds of students quietly chatting, discussing the latest project. As students cut, measure and sand through wood, the strong aroma of sawdust hangs in the air. This happens in the woods workshop, where woodworking instructor Stephen Silca teaches students the skills he too once learned at South.
"I enjoy [teaching students about woodworking] because I think it's inherently fulfilling," Silca said. "Whether the project [be] big or small, [woodworking is] immediately useful, and in that sense it's inherently fulfilling. I think that there's a lot of joy that comes from good craftsmanship."
Silca explains that he believes woodworking is definitive. It's not hypothetical; there is only a concrete response, which ideally will end with a useful piece of furniture, according to Silca. Silca explains that he discovered his interest in woodworking when he attended Springman middle school, which, at the time, had a woodshop. According to Silca, this was when he began pursuing woodworking on his own.
"[When] I was 13 years old… I made a silverware caddy [with all hand tools]. [This was an] old style project [but it] was my first [project] I ever made," Silca said.
According to Silca, his interest in woodworking expanded when he met David Hill, South's former woodworking teacher.
"David Hill definitely was inspirational in terms of how he worked with kids, and the energy level that he had and just his chosen career," Silca said. "I watched how engaging he found [woodworking]. I wanted to do what he did."
According to Silca, his hobby continued throughout many jobs, and included his favorite project, in which he built a gazebo alone in his parents' backyard. According to Silca, after years of working as an investment banker and later an accountant, he found that teaching his passion of woodworking was more fulfilling.
"In every way, shape and form, I have my dream job. There was only one in the whole world, and I got it," Silca said.
Senior Jeffery Mitchell explains that he is one of many students that Silca has worked with and inspired within his five years of teaching at South. Mitchell elaborates by saying that woodworking is a class he looks forward to when he comes to school.
"Aside from him being a teacher and teaching me woods, [which] has inspired me, he's a role model for me, so I always look to be like him, nice and outgoing like him," Mitchell said.  
Silca offers a piece of advice for students thinking about turning to woodworking.
"It doesn't matter if you're a straight-A student or a very poor student, or anything in between, but to craft a piece of furniture that is attractive, functional and permanently useful is something that almost every student I have ever interacted with [has] found rewarding and engaging," Silca said.