Miracle on 34th Street presents positive message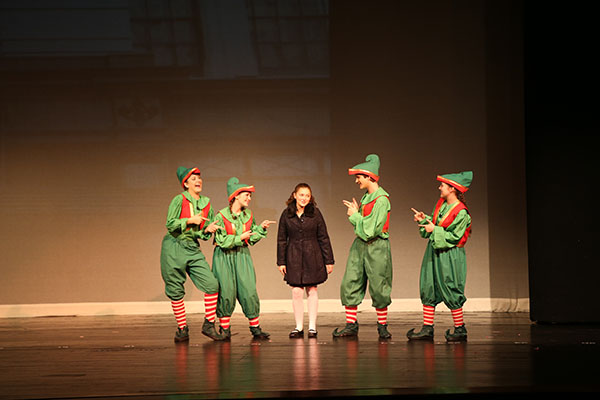 This year's fall play Miracle on 34th Street took the audience on a journey to belief, according to Director Beth Ann Barber. According to Barber, Miracle on 34th Street was a great introduction to the rest of the year's theater productions.
"It's the first show of the year," Barber said. "We try to do a large show together with a lot of students involved."
As the director, Barber explains that she is responsible for choosing the theme and ultimately chose Miracle on 34th Street because of its positive message.
"This play, yes, is about a man who thinks he's Santa Claus, but ultimately, what this show is about is if we believe in the good in people," Barber said. "The outcome is really great."
According to sophomore Jack Taylor who played drunken Santa, a caroler and  Mr. Bloomingdale, the cast wanted the audience to walk away with a smile.
"Just to see that a big group of kids really worked extremely hard to put a great show together will put you in a great mood and make you walk away smiling and have a little more faith in humanity," Taylor said.
As the curtains closed, junior Erin Kirby, who played the role of an elf, says that she hopes the audience took away an uplifting message.
"It's a positive message about community," Kirby said. "It doesn't matter who you think you are as long as you give back to your community and unite. It's a beautiful message that anyone can enjoy."
Freshman Abby Neptun played the role of Susan. Susan is one of the main characters in the play and doesn't believe in Santa Claus initially. Neptun says that playing the role of Susan felt comfortable and natural to her while other roles didn't click with her.
"It was very nerve racking, I have to say, when I first read from the script," Neptun said. "I thought I did so badly, and then when they had me read for the role of Susan, I just felt way more comfortable. It went really well, and I was proud of myself."
According to junior Marina Madsen, who plays the role of an elf, one of the biggest challenges that the cast faced is coordinating schedules and encouraging all of the people to do their individual work outside of school.
"A lot [was] just getting everyone together," Madsen said. "We [had] a really large cast, and getting everyone together to practice and then remember their lines [was] a challenge."
Being a part of the play was a huge commitment concerning rehearsals states Barber.
"We [rehearsed] almost every day after school and […] started on the weekends as well," Barber said. "[We went] […] at it since the first week of school. Not every student [had] to be there every day, but the leads pretty much [did] every day. So, [it was] a pretty big commitment and a lot of the students [were] involved in other things [such as] band or speech team, [but] [acting] is their passion."
Time is the key to success for the play, according to Madsen. Rehearsals are helpful because the actors and actresses can get the majority of their work during that time.
"A lot of it [was] just setting aside extra time to get lines memorized and getting everyone to be there on time," Madsen said. "Mostly though, [it was] nice because a lot of the work that [we did was] during rehearsals, so [we got] everything done in that time and there [wasn't] a ton of stuff to do at home."
Senior Jordan Zelvin played the role of Doris Walker. She explains that before every performance, Barber gave the cast encouraging pep talks to energize them.
"She tells us that we're her Miracle on 34th Street and every day we make her more and more proud," Zelvin said.
In addition to the actors and actresses in the fall play, stage crew helped complete the production of the fall play, according to junior Fiona Hellerman. Despite working behind the scenes, their contributions to the play were vital, Hellerman said.
"Stage crew involves art and music and getting to work with the actors, which is really nice," Hellerman said. "So the combination of all of that and still being able to say that [I was] involved in the show is really rewarding."
Hellerman explained that the set for Miracle on 34th Street is unlike anything she has worked on before, which posed some challenges for the crew.
"This year, part of the set flies in and is connected to the rails on top [..]," Hellerman said. "[This part of the set] is hiding above the stage for the most part. [It] was interesting to work with because you have to paint something that's vertical, and you need to make sure that the paint doesn't drip […]."
For both Neptun and Madsen, the play was their first major production in front of a large audience. While Madsen explains that she has only worked in small skits, Neptun only had previous experience behind the stage.
"It's been really difficult trying to learn what it's like to be in a show like this," Neptun said. "I've never been in a show (like I've mentioned), so it's hard trying to transition from being a backstage helper to being on the stage."
According to Taylor, the transition to being in the fall play was made easier by the friendly cast. Taylor adds that the cast members have  added a light to his life.
"Basically, seeing these people every day has been a bright thing in my life," Taylor said.  "Seeing everyone be so friendly and have big smiles on their faces, and everyone knowing the work and being friendly to each other is really something that's made this group such a fun group."
Zelvin concludes that although Miracle on 34th Street's stage time has come to a close, the cast members will remain close.
"I'm definitely going to miss the community, but since we are all such close friends, I don't think they will ever be that far away from me."