Marching band season ends with a first place win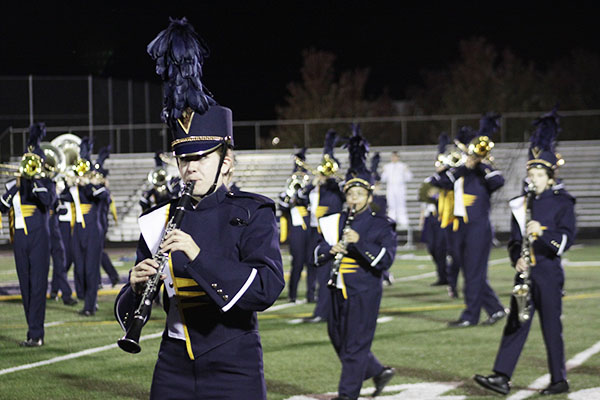 Relief or panic. These contrasting emotions pass through seniors and juniors whenever the intercom blares "The senior parking lot has NOT been completely cleared for marching band practice," followed by the list of straggler car owners. According to JP Rodriguez, senior trumpet captain, students' knowledge of band stops there, which leads to misconceptions and under appreciation.
"People think that band is a group of people that are 'boring,'" Rodriguez said. "People think that band is a lame thing to do, [but] we set the mood with our music. One day we didn't show up to a football game, and the people [said], 'Where is the band?' "
Some of South's marching band's annual community events include the rummage sale, mattress sale, car wash, and other parades. According to Band Director Greg Wojcik, the band's identity comes from these community oriented events.
"The importance of marching band is more to the community and the school, than it is to the band itself," Wojcik said. "The band is always out there supporting the community, that comes first. Sometimes [students] ask 'why do we have to go [to all these events]?' The answer is because it's the right thing to do."
According to Wojcik, marching band doesn't only support the local community, the band also strives to create their own community.
"Our motto is 'one band, one family,'" Wojcik said. "If someone is hurt, we're all hurt. If we win, we win as a group. If we lose, we lose [as] a group."
Along with providing inclusivity, Kayleigh Markulis, senior drum major, explains that the positive atmosphere prevents outside factors from affecting the band's results.
"Being a teenager, there's always a lot of things going on in your life […], but that's why we try to keep band positive," Markulis said. "We're trying to make it great, and we're not trying to let things affect us. When we do get in that zone, we do really well."
One obstacle that initially prevents the band from getting into that zone each year is underdeveloped freshmen talent, according to Taylor Keime, senior drum captain. Getting freshmen up to speed posed a challenge to the new section leaders.
"I had a lot of young guys [whose] talent wasn't where I wanted it to be," Keime said. "The process of making sure they're on the same page, and getting them engaged, teaching them discipline, [and] musicality was tough."
Noah Jon, sophomore alto saxophone and South transfer, joined marching band without prior experience. He said getting used to marching band's competitive nature was tough, but consistent practice helped the transition.
"It was my first time ever doing marching band, so it was kind of hard to like play my instrument and march at the same time," Jon said. "It's kind of like music and a sport combined."
Yevin Kim, sophomore guard member, adds that the low scores at the Chicagoland Marching Band Festival proved that freshmen weren't fully prepared. The band took fourth place out of six bands and scored 68.05 of 100 possible points.
"[The freshmen] were kind of recruited and thrown onto the field and had no idea what they were doing," Kim said. "It's their first time going on the field, but after people gain that experience […] we do better afterwards."
According to sophomore trombone Matthew Risinger, the competition score was a disappointment, but the band kept a positive attitude by focusing on their future potential.
"It was a pretty low score, so it surprised most of the band, but we knew since that was such a low score that we really had the opportunity to build upon that," Risinger said.
The band's potential became a reality at the second competition of the season, St. Rita Mustang Stampede Marching Band Competition, as the band walked away with the Grand Champion trophy, according to Risinger. This season marks the band's fourth consecutive St. Rita win. Risinger adds that although the win was to be expected, effort remained a key focus.
"It was kind of expected for us to win, but [our directors] always say that nothing is guaranteed and make sure we always put out our best," Risinger said.
According to Jon, the band put out their best effort into the competition, and celebrated on the ride home.
"Since it was our second competition and the first one we got fourth, we were surprised and also really happy," Jon said. "We were like cheering on the bus. We sang the song 'We Are The Champions'."
In the team's third competition of the season, Prospect Knight of Champions, the band scored 67.05 points and placed second, after Lake Park. According to junior clarinet Erin Kirby, the band walked in knowing it was a challenging competition and put in extra work to prepare.
"The Prospect competition had a lot of hype going into it, so both the Wojciks were nervous and rehearsing the band extra hard […]," Kirby said. "We even brought in our clinician from band camp, Mr. Dave Tippet, to capture and recreate the musical essence that this band needed in order to succeed at Prospect. Despite the competitiveness from each band, I was happy with the results because it showed improvement [….]."
Finally, the band closed off the season with a win at The Sandwich Music Fest with 88.55 points. The competition was new to the band, and according to Rhea Shah, sophomore trumpet player, the band's ability to walk away with the win made the competition a success.
"I think it was a great way to end off the season, because it was our first time going to Sandwich […]," Shah said. "There were 21 other bands there, so there were a lot of bands to go against. I think it was really great for Wojcik because he gets to leave his legacy at Sandwich."
Jack Kelly, senior drum major, adds that the Sandwich competition wasn't only  a special competition for the band but personally as well.
"I was center drum major for this competition, and it was really amazing to contribute to getting Grand Champion for my band and Mr. Wojcik," Kelly said. "What's a better way to end all the seniors' and Mr. Wojcik's last year than winning the whole competition?"
According to Miranda Nevin, sophomore trombone player, although winning isn't everything, placing high against tough competition proves the band's overall improvement.
"You can have someone tell you, 'you did a great job,' but it's something different to see it for yourself," Nevin said. "It's nice to have that visual evidence that we improved."
Overall, the band's main goal was to close off Wojcik's year with a bang, and according to Keime, the band achieved their aim.
"We always have this mentality [of] 'Last time best time,'" Keime said. "Everytime we have a show rap […] we always want it to be the best. […] We [tried] to make his last time […] the best time, so that he can go home and say 'I put in 38 years here and I'm satisfied with what's in that field.'"
According to Keime, while students' knowledge of marching band stops with announcements telling them to remove cars from the senior lot, there is a lot more to marching band than that.
"With whatever you do in life, there's always going to be misconceptions about it," Keime said. "I think what people  don't understand is how much time we put into band. Also, we're normal people. It's just like when somebody goes to play football, we just play our instruments."