Culinary arts spark student career interests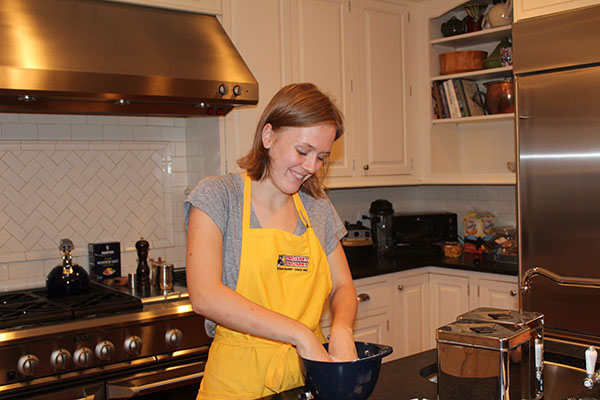 Creamy ice cream, juicy rib-eye steak, or even a Starbucks'  frappuccino are some of people's favorite foods. As someone begins to cut through a broiled steak or begins sipping their go-to Starbuck's drink, does anyone ever wonder "Who made this?" Many students at Glenbrook South are pursuing a culinary career in hopes of being the chef behind that food creation.
Some of these students became interested in the culinary arts after taking Foods I. Many others, however, discovered their spark for cooking when preparing dinner with their parents and creating small snacks with friends. According to junior Mia Pitzaferro, she was surrounded by culinary arts at a young age.
"My dad used to be a chef, so I'd cook with him when I was little and help him out," Pitzaferro said. "So, I [had already] started in the culinary business."
Junior Kate Voss also developed an interest for cooking at a young age when baking with her relatives or watching her mother cook dinner.
"[Cooking] really caught my interest when I realized that you could do whatever you wanted," Voss said. "There's so much freedom in the kitchen, and with cooking especially you can just throw stuff together and see how it tastes. [You can make] whatever you want it to be, and there's so much creativity."
While both Pitzaferro and Voss began cooking in their home, others were exposed to the culinary arts through cooking classes. For example, in middle school, senior Clara Pauker began taking classes at Whole Foods and Sur la Table. Then entering high school, Pauker decided to join Foods at GBS to expand her culinary knowledge of cooking and try out new recipes.
"I had done those 'Cooking for Teens '[programs], and I had a lot of fun with those," Pauker said. "When I saw that they offered a foods class at GBS, I thought, 'Oh this is perfect!'"
According to Pauker, the majority of local classes she took were focused on baking and dessert making, whereas Foods gave her the opportunity to explore different culinary aspects.
"I feel that in the GBS Foods classes you learn a whole variety of recipes, so you can practice whatever is convenient for you, whatever you like making," Pauker said.
While many students enjoy cooking as a hobby, these students have decided to pursue a career in the culinary arts. According to Pitzaferro, her dad plays a large role in her decision to pursue a career within the culinary arts.
"[My dad] always [tries] to help me," Pitzaferro said. "[My dad] would criticize me and just try to help me get better [when I'm cooking]. Whenever I'm doing something wrong he [would] fix me, and would always compliment when I'm doing something right."
According to GBS Foods teacher Kelli McDonald, Foods also provides students with various projects such as teacher luncheons, budget meals, food magazines, and many more to prepare students for a culinary career in the future. In addition to Foods, students have the opportunity to join Family, Career and Community Leaders of America (FCCLA) to apply their dishes in culinary competitions. According to Pitzaferro, FCCLA is a great beginning to get into culinary schools by putting students in a professional cooking environment that they would experience outside of school.
"[FCCLA] puts you in a position where you're going to be short on time, need to hurry up, and get things done," Pitzaferro said "[FCCLA] gives you skills you're going to need in college."
In addition to the various classes and culinary opportunities provided, many of the Foods teachers encourage their students to cook outside of class as much as possible. According to Voss, her Foods I teacher Elizabeth Schimmel gave her valuable advice that has stuck with her for quite some time.
"Ms. Schimmel emailed me over the summer [and] said, 'Just keep cooking, I know how much you love it'," Voss said. "That was really cool for her to reach out because she recognized how much I loved [cooking]."
While Voss is still undecided about pursuing a career in the culinary arts, she explains that she is taking time now to figure out exactly what she wants to be in the future, and is continuing to explore the various facets within cooking and the culinary arts.
"There are days when I think being a chef would be the best thing in the world, but realistically I know that those hours and the payment are not what I would expect it to be," Voss said.
However, Pitzaferro already knows what aspect of culinary arts she prefers. According to Pitzaferro, she hopes to pursue a career in the culinary arts and is planning to attend Kendall College after high school. She is planning on becoming a pastry chef after her senior year.
"To be a pastry chef is a challenge," Pitzaferro said. "You need to be creative […] and when you bake something it's got to be spot on [because] if it's not it won't turn out."
In addition, Pitzaferro explains that she wants to teach others about the culinary arts and inspire them to find a career they will enjoy just as much as she does.
"I not only want to pursue my culinary skills, but to reach out to kids and schools to not give up and chase their [dreams]," Pitzaferro said.