Artist Alert
Each issue, Artist Alert features a different creative and talented aspiring artist or entertainer in the GBS community.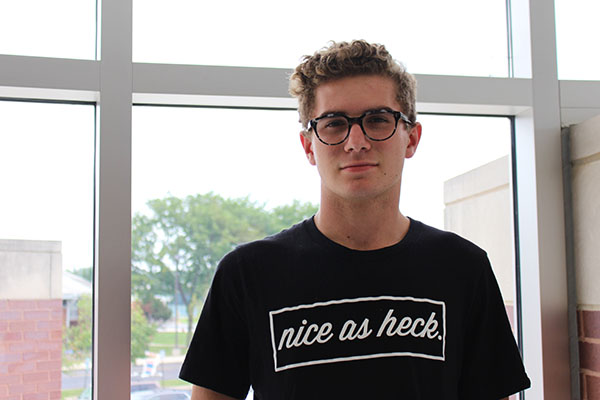 Senior Chris Daus is an aspiring professional cinematographer and filmmaker. Daus is currently involved in Advanced TV and is the executive producer of the Titan Sports videos. Along with holding an A-TV position, Daus also posts videos that highlight his travels on his Youtube channel.
How did you get into filmmaking?
"My filmmaking roots stem [from when] I was a young kid. I would always watch the X Games […], and I convinced my parents that I needed a skateboard. It became not as much about me progressing as a skateboarder, [… because] I enjoyed filming more. So, I made videos of my friends doing skateboard or BMX tricks, and […] it grew from there."
What moment confirmed that you could make filmmaking a career?
"[Over the summer], I interned at a visual marketing agency called Culture 22. I was a video editor, so it was a very professional job. My main client was Ulta Beauty, and I made educational videos [for them], and I made a lot of money. [It] was amazing for me to know that something that I was doing in my free time could let me be able to live. I plan on going to film school next year, so having this experience as a video editor was so important to me."
What separates filmmaking from other art forms, and what chord do you want your art to strike?
"Filmmaking is a combination of all art forms into one, [and] it's a way to express emotions through […] your eyes and ears. You can have music, acting, photography, anything. I feel empowered that I'm capturing a moment. My goal is to make the prettiest videos I can make. When people watch my videos, I want them to be like, 'wow' […]. It's expressing how I see the world through videos."
What does creativity mean to you, and how does filming express your creativity?
"Creativity is one of the most important traits in this world today, especially with the ever growing technology. Creativity to me is expressing yourself. Video shows my personality and my creativity because […] I just try to be myself and show my style."
What is your favorite video on your Youtube channel?
"My favorite video was the "California" video because I spent a lot of time on that, and […] it  was a big step up. Everytime I show it I feel so proud of it, and I even enjoy watching it myself, which is kind of strange."
What would you say is the biggest misconception people have about filming?
"People don't understand the amount of time it takes […]. I've probably filmed two hours of footage and I've condensed it down to just under two minutes […]. Filming it, cutting it, putting it to music, putting the clips in order and editing takes a lot of time."
What's your dream project?
"My dream project is to do a documentary in Africa on the local tribes there. Just learning about the culture and […] exploring these beautiful people [would be amazing]."
What advice would you give to a filmer just starting out?
"Just keep making films […] even if you're not happy with your original product, b`ecause they will get better. I'm nowhere near my end potential as a filmmaker, and I'm excited for what has to come for me. So, keep filming."