South alumnus performs globally, reflects on past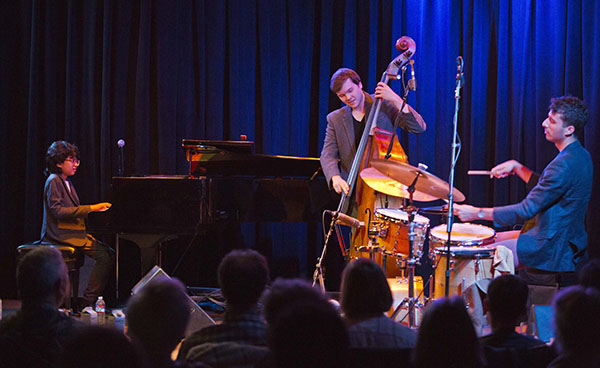 Imra Tajuddin & Gabby Zabat, staff reporters
May 27, 2016
Plucking the strings of an instrument while hearing the audience applaud in delight is the dream for many students in the Music Department. Currently, Dan Chmielinski, Glenbrook South alumnus and Juilliard student, is living his dream by performing the bass in a trio of musicians on a world tour.
One of the stops he made this spring on April 14, was at GBS for an intimate performance for about fifty students in the band room. Chmielinski expressed his gratitude for being able to return to South and share his talents with aspiring musicians, just as he experienced when he went to GBS.
"[The performance] was absolutely surreal," Chmielinski said. "It definitely brought back memories. More so than performances, it brought back memories of when I'd be in band and old alumni would come back and visit. It was a full circle moment for me."
According to Chmielinski, throughout his four years at GBS he worked to take advantage of the music program by participating in jazz band, the orchestra program as well as Variety Show. Chmielinski explained the profound impact that his participation in Variety Show had on him while he was at South  socially and beyond as he now is pursuing his masters degree in an advanced course placement at Julliard.
"V-show was a huge part of my GBS experience," Chmielinski said. "There's nothing quite like putting an act together start to finish and then performing it for five shows in a row in front of a full house every night."
According to Marty Sirvatka, Music Department instructional supervisor, Chmielinski was a great contributior to the music program. Chmielinski was able to assist Sirvatka in many musical performances. After graduating GBS, Chmielinski believes he left an impact on the music program that inspires students to participate in the many musical opportunities that South has to offer.
"I definitely feel like I gave my all to the [music] program everyday and really just said yes to everything," Chmielinski said. "I hope that I inspired someone in the audience to maybe be in the Variety Show."
While continuing his studies at Juilliard, Chmielinski has been practicing the bass by performing with his band around the world alongside drummer Bryan Carter, and 12- year-old  Joey Alexeander. According to Chmielinski, they have performed in the Netherlands, Germany, London, Italy and are later performing in Prague over the summer. He explained that, although he always knew that music was his passion, while at South, he had never imagined that he would have the opportunity to share and perform around the world alongside his bandmates.
"I definitely wouldn't have predicted the specific set of circumstances that I'm in right now, but I can tell you that music is bigger than all of us," Chmielinski said. "I feel as a musician, it's my responsibility to share that music with as many different people as possible. So traveling the world and performing music has always certainly been an aspiration of mine."
Chmielinski added that even prior to his time spent at South he knew that music was the career path that was for him, and added that perserverence is a major aspect for aspiring musicians.
"Absolutely, [music] has never been a question for me," Chmielinski said. "I've just always known that music is my path."
According to Chmielinski, he sees music as an opportunity to build relationships and foster empathy between one another, regardless of location or culture. Chmielinski believes that the best way to continue to do so through music is to continue exploring and discovering. Chmielinski added that he believes through building bridges between music, relationships can be made and fostered. He offers  this advice to aspiring musicians at South.
"To fully understand music and use it to the fullest of our capabilities, we have to keep digging and exploring," Chmielinski said. "[Music] behooves all of us to try and seek out as much of it as possible and start to make connections between genres, geographical regions and chronological periods. The pursuit of that combined with the individual's passion will lead to a successful and fulfilling life in the arts."