Jamnesty promotes artistic expression, global change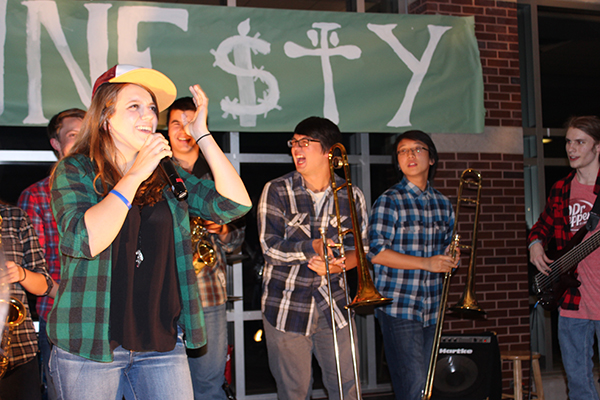 Gathered in the open cafeteria with lights dimmed, an anticipating crowd stands before the stage for the first act to come on. As the group assembles and begins to play, the audience dances along in concert-like fashion, appreciating the diverse music selections and inspirational speeches of the night.
The show resembles a mini Variety Show, showcasing the talent of several students on a much smaller scale, according to junior John Schurer, president of Amnesty International, one of the two clubs involved in hosting Jamnesty.
"One thing we tried to do this year was to diversify the types of acts that we show," Schurer said. "A lot of times, you get repeated acoustic acts or pop songs, and while all of those are phenomenal, we like to mix it up. So this year, it's almost a miniature variety show. You have people like King Trey performing rap, Stef Patsas is performing gloving, you have drumline coming in, you have Lauren Frias on piano. […] The idea behind it is to retain interest and reach out to different groups of students throughout the school."
According to Matthew Whipple, sponsor of STAND for Peace (STAND), a club that tries to raise awareness for global issues, this is their 11th year hosting Jamnesty. It's a collaboration between Amnesty International and STAND that's described as a "rock concert for human rights," Whipple said.
"A good Jamnesty [has] a good student turn out, with a bunch of excited students who want to perform and some really powerful messages," Whipple said. "That's a good Jamnesty, and every year that looks different."
Though Jamnesty has been made unique to GBS through student-run acts and performances, Schurer said that Jamnesty is not an idea that stemmed from the two clubs. Rather, it is a popular event held by other chapters of Amnesty International throughout the nation; GBS merely adopted the event.
The event is organized like a concert, with some intermissions for members of Amnesty International, STAND and the other clubs to make speeches. According to Whipple, there are also booths set up around the room where members of various clubs at South can hand out literature about human rights issues while listening to all of the bands.
"I'm a huge music fan in general and live music is better than anything, so being in a room with these students who are really passionate about their music is always exciting to watch," Whipple said. "I love to see how students are listening to the messages that get spoken. I have seen some students get up and say some very powerful things, and they've felt like they've been waiting for a place to say it. […] There's a certain joy in being together that evening."
This year, the clubs will be using the funds raised from Jamnesty to continue to sponsor Purity, a girl in Kenya, to go to school. According to Whipple, this is the third year of Purity's high school education that the clubs have supported.
"Our deal [is] that if we, as a group, were going to sponsor a student, we couldn't back out in the middle of her high school education," Whipple said. "We want to help her finish school, not just jump in."
Junior Amelia Papajohn performed "When I Get Famous" with juniors Grace Tu on piano and Kai Erber on drums. According to Papajohn, the song is a mix between jazz and pop.
"It's a really fun song and it grooves, so I'm really excited to sing it because it has a good rhythm," Papajohn said.
According to Papajohn, whenever she's performing a song, she tries her best because she knows it will be the last time she performs it.
"When you're onstage you're like, 'Wow, this is the last time I'm going to be performing this,'" Papajohn said. "You have to take the opportunity and embrace it, because you're performing for these people and this might be your last time performing this particular song."
Papajohn commented that she really enjoys going into Jamnesty with a group.
"[Erber and Tu] are both so musical that they bring their own little twists to the piece, which I really enjoy," Papajohn said. "[It's] stuff that I wouldn't have thought of and they just do it."
Another Jamnesty performer, senior Komal Gupta, said that she hopes to get a positive reaction out of the audience. Performing alongside seniors George Tantchev, Stephen Sholty, Michael Jesser and Adam Ley, the group, dubbed W.I.P., played "Move Along" by All American Rejects.
"I think, overall, [our act] is kind of a fun, easygoing act that fits in nicely because it'll hopefully get the crowd involved," Gupta said. "We basically wanted to do a song that everyone would know."
Along with musical acts, students will also be performing spoken word poetry and give speeches about the global issues that the clubs are trying to raise awareness for. Senior Kate Hegay, a leader for STAND, said that she spoke about the topic of genocide and how it affected her personally.
"I don't understand genocide, but I have been touched by it," Hegay said. "In the mass executions carried out by Stalin, some of my family was killed, and it is the type of grief that is carried through generations. Unfortunately, grief is easily translated into hatred, and I believe hatred can only result in more grief. […] In my speech, I want to remind people that genocide is not a foreign entity that is limited to war-torn countries we see and sympathize with on the television, but rather, it is a very real danger everywhere, especially if the world continues to tolerate hatred."
While giving her speech about the global issue of genocide, Hegay stated that she hopes that people not only appreciate the music and talent that was showcased, but also the bigger meaning behind the event itself.
"It is easy to forget why Jamnesty is put on," Hegay said. "The music acts are incredible, and I was lucky enough to see the auditions, but the main reason that Jamnesty is important is to remind GBS students about what it means to be a community. Jamnesty is a very intimate concert and everyone comes to appreciate other art forms. […] STAND and Amnesty want that tolerance to be something that South stands for, both in our school and as part of the global community."
Speaking on the global impact of Jamnesty, Schurer said that he hopes Jamnesty will serve as a reminder to students that there are issues outside of "the Glenview bubble" and to encourage students to be a part of that far-reaching change.
"I want students to recognize that there are problems beyond [their] own that exist in the world around us, and to be aware of those issues," Schurer said. "It's extremely important [to remember] as you graduate high school and become global citizens."