Aida inspires grand, broadway-style performance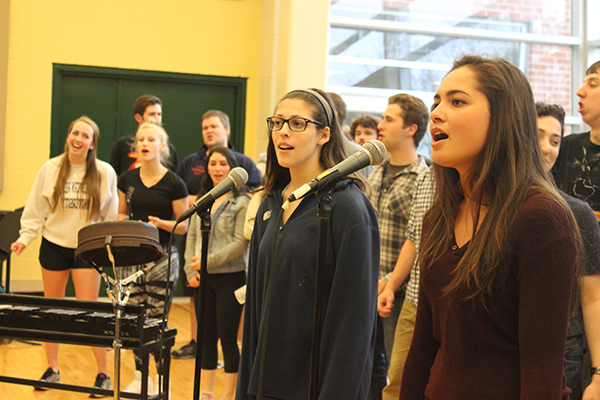 John Park & Emma Morris, staff reporters
April 22, 2016
Onstage combat, Egyptian temples, life-size statues, a Nubian princess, a Grammy award-winning love story and a collaboration between GBS and GBN. These can all be seen at the 2016 Glenbrook Musical, Aida, from April 27-30 at 7:30 p.m. at GBN. Despite various challenges, the cast and crew have been working hard to produce the best musical possible.
According to musical director Ann Robinson, AIDA is the story of an enslaved Nubian princess who falls in love with her Egyptian captor, and the musical parallels Shakespeare's Romeo and Juliet.
"It depicts the tragedy of love amidst impossible circumstances, but these characters are more fully aware of their emotions and responsibilities to others," Robinson said.
One of these central characters is the Egyptian captain, Radames, who is played by senior Chuck Quinn IV. According to Quinn, the role is difficult to portray because of Radames' anti-hero qualities.
"It's difficult playing Radames in the beginning of the show because he can't be the victim," Quinn said. "But, at the same time, he's this Egyptian captain that's going into this other kingdom, raiding villages, taking captives and turning them into slaves."
One of Quinn's goals is to help the audience understand his character's perspective and understand where he is coming from. A way he hopes to achieve this is by changing his mindset onstage.
"I'd like to [express] this musical more [with] my body, so when I'm onstage, I'm not in my head at all, and I can really just let the story come through," Quinn said.
This year's musical is being hosted by GBN, and it's one of the few opportunities to bring together GBS and GBN, according to Aaron Kaplan, pit orchestra director. An opportunity to work together and unify the schools in District 225 is something that not many districts experience.
"I think that the Glenbrook Musical, as a combined product, is an amazing thing that would be difficult to replicate if the [schools were] split," Kaplan said. "I think it is one of the crown jewels of our district, something that is very unique to our district, and I think we need to protect those gems that make us unique as a district."
As a former GBN student, some of Kaplan's best high school experiences came from his participation in the musical.
"As a student, it was one of the most exciting experiences of the year," Kaplan explained. "District musical was one of the highlights of my year. Some of my best friends, we met in the pit. So, I think it's a great chance to collaborate and work across Willow Road with people."
According to sophomore actress Erin Kirby, this year being her second year of involvement in the Glenbrook musical, one of the best parts of being involved is meeting and creating relationships with new people.
"I know most of the people from doing the musical last year, and it is really cool how you can carry on the same friendships with people," Kirby said.
According to sophomore Megan Heublein, it was frustrating at times to work together with North in the beginning because the schools have different habits.
"[North students] had a different rehearsal etiquette," Heublein said. "They were a different group. But we've kind of gotten used to that now, so it's a lot better than it was. They've grown on me."
According to Kaplan, it is beneficial for the students that the musical switches off schools yearly. This exposes students to a different staff and environment.
"I think [the musical is] important because if students go on to do this professionally- or not professionally- if they just do it in community theater or in college, they're going to have experiences working with different people and different staffs," Kaplan said. "So, it's good on that educational side to get kids working with different people of different styles."
According to Quinn, the cast and crew were able to work effectively through the help of the staff.
"The teachers are so supportive and so dedicated," Quinn said. "They want the best musical possible, and they work with each student to really ensure that that happens."
One helpful experience was meeting the original Aida from the Broadway production, professional actress Heather Headley, according to Robinson.
"[Headley] gave us some excellent insight into how that production came together," Robinson said. "Many of the things she said helped us get at the heart of the show, and it is our task to tell the story with that in mind."
The musical was able to showcase the styles of a set crew as well, led by stage crew director Joel Monaghan. According to Robinson, the set is especially dynamic this year.
"It looks like the inside of an Egyptian temple with shallow stairs, huge statues and columns, a rolling platform and even a boat that moves on and off-stage," Robinson said.
Quinn noted that the audience should not only pay attention to the main scene but also the backdrop.
"Keep looking all over the set throughout the play because we might have the main plot going on centerstage, but we've blocked a lot of vignettes in the background that really build the world and set up the environment," Quinn said.
Another important concept that audiences should keep in mind is that the characters exhibit a complex dual nature that Robinson hopes will captivate the viewers.
"These characters reveal the very best and worst of humankind," Robinson stated. "As Aida says, 'We all live such elaborate lives,' and I hope, for two hours in the theater, this story will take [the audience] away from their own elaborate lives into another world."