Male students explore jewelry class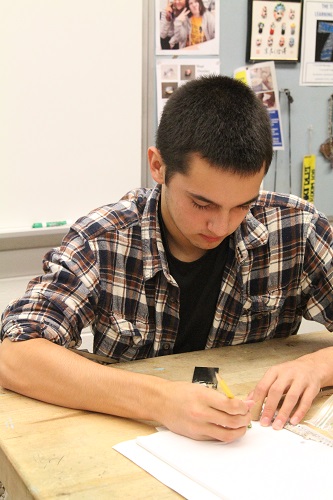 Megan Sheqiladze & Gabby Zabat, staff reporters
November 20, 2015
During childhood, most girls would stick a colorful string through different types of beads to make friendship bracelets or customize names on necklaces. However, at South, the jewelry class is a little more difficult than that. Most students would describe jewelry-making as an easy activity, but the act requires much more skill to shape metal, mold clay, work with fire and many more interactive activities for both boys and girls.
When students first think of jewelry, they automatically imagine it to be a feminine activity, according to five interviewed jewelry students. However, there are males in the class who disagree with the stereotype and take jewelry class to torch metal rings or make belt buckles. According to senior Juan Castaneda, he had no experience in jewelry-making and was not sure about joining the class. However, Castaneda enjoyed the activity and hopes to continue it next semester.
"At first I thought […] of just making bracelets and things, but I got in and it was pretty fun," Castaneda said.
According to Jewelry teacher Natalie Ingaunis, students who enter the class do not need any prior experience of jewelry-making to join. Whenever a new student joins her class, Ingaunis assumes [the students] come in with no experience and start from the beginning like anyone else.  However, freshman Michael Plante, a student of Ingaunis, came in with some art experience and is continuing to excel in the class.
"[Plante] came in with obvious drawing experience, but [the success] really lent itself to coming up with some really incredible [and] original designs," Ingaunis said. "He just seems to have really good hand coordination, and he applies it to metalworking skills that he's learning, so his pieces are beautiful."
Although a majority of Ingaunis's students are girls, both genders are able to make a piece of jewelry for the class.
Senior Ivy Zhou came into class with wire-working experience utilized to make jewelry. She often wraps crystals for her male and female friends and has made a business out of her hobby. Zhou joined the class in hopes of learning something new, and she believes that the skills she has learned are useful to both genders.
"I think just because of [the class] name, 'Jewelry,' guys [think], 'Oh, I don't wear jewelry,' but [the class is] actually a lot more than just making pretty rings," Zhou said. "You learn a lot of useful things like soldering. It's actually a lot of metal-working."
Although jewelry class teaches students how to create pieces for both genders, there is a clear difference between the number of men and women in the class. Junior Rory Villa has noticed this comparison in her class.
"Like in any professional field, men are always dominant over women," Villa said. "In this particular instance, because it's school, jewelry is seen as feminine. In the professional world, men are definitely more dominant [in the field]."
Castaneda believes that other guys should join the class. He said that the students are able to have more freedom in this class compared to his other electives, which should convince people to join.
"I feel like more guys should join [Jewelry] because it's a fun class," Castaneda said. "[It's] not just about making bracelets, but having fun and doing what you like."
According to Ingaunis, once Jewelry I comes to an end, many of these male students will still continue on with Jewelry II and III. Ingaunis is then able to see many of her old students around school or in her class.m
"A student in the cafeteria [said], 'I miss your class so much! I think of all my high school classes and that was my favorite of all,'" Ingaunis said.
During jewelry class, Ingaunis believes that any of her students can excel in her class and stand out to make any pieces.
"When a student finally figures out how they can do something and execute an idea that they have when they have the skills to do it, it's great to see the faith that they develop in themselves and in their confidence level," Ingaunis said.