Demorest embraces music through family, school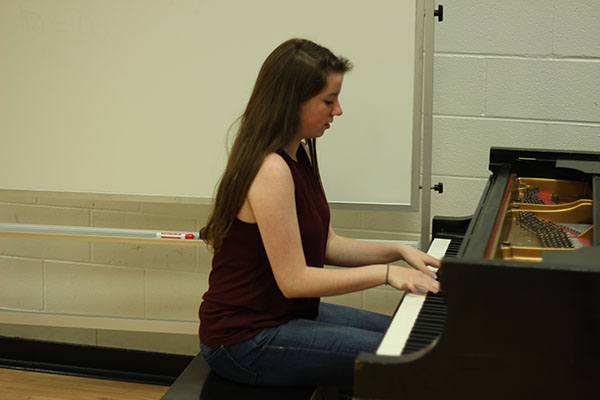 Lights, camera, action! The spotlight shines on senior Claire Demorest as she entertains her audience with her musical voice and captivating acting skills. With a long musical background behind her, she performs with Master Singers, Chamber Singers, and Scat That.
Demorest first joined GBS last year as a junior, and has been singing with GBS choir ever since. Demorest and her parents realized early on that she had an interest in music.
"[My parents] have a recording of me when I was 2 years old singing the alphabet, and I had the words wrong but the pitches right," Demorest joked.
According to Demorest, she believes she has always had an interest in music because her dad was able to teach her how to sing and play piano when she was a child. With her dad being a music professor at Northwestern University, Demorest was able to begin her musical experience at a young age.
"I was like [my dad's] little experiment baby," Demorest said. "He was like 'How early on can they match pitch and be a good singer?'"
After many years of practice with her piano, drums, and vocals, Demorest was able to perform in one of her first musical plays in How to Succeed in Business Without Really Trying during her freshman year at another high school. Coincidentally, Demorest was also able to perform in the same comedy her junior year at GBS. According to Demorest, she had a very different experience both years but still had an amazing time.
GBS's choir teacher, Martin Sirvatka, described Demorest's vocal performance as "a beautiful solo that only she could do."
According to Demorest, there is something very special and magical about musical theater that makes her love it. Demorest also expects to audition for many musicals this year and hopes to continue musical theater throughout college.
"Musical theatre is one of my biggest passions in life," Demorest said. "There is nothing like live performance and singing the same show every night."
According to Sirvatka, Demorest is a very poised performer that bodes confidence on stage. Like many performers, Demorest can become nervous before a performance but is still very put together and prepared when she is ultimately on stage.
Demorest's father, Steven Demorest, said, "I never really heard her practicing…but all of a sudden she came and sang for us before her session, and she had clearly been practicing."
Claire works hard and has fun during rehearsals at school, according to Sirvatka. During rehearsals Claire is also able to present herself as a leader.
"[Claire] is a leader because she is so good," Sirvatka said. "She sings so beautifully in tune, and learns her part really quickly, so she just becomes a natural leader."