Divorce unexpectedly benefits kids, nurtures independence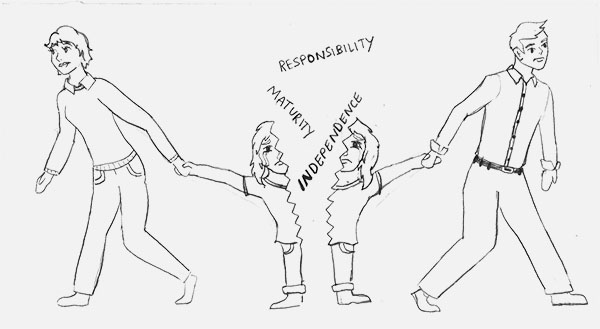 In 2008, my parents filed for divorce. As an 8-year-old, I was confused. I thought to myself: "Why is this happening? Why is my family different? How will I manage responsibilities with my time split between my parents?" Now, as an 18-year-old who has lived most of his life under such circumstances, I've learned to accept divorce. I have reconfigured my life around what has become my new normal.
Throughout high school, the divorce of my parents has affected me in profound ways. Most students don't talk about their life at home within the walls of GBS, but for many kids at South, divorce is something they deal with every day. Whether it's commuting back and forth between homes or acting as the default line of communication between two once-cordial adults, the separation of parents can be disorienting for everyone involved, especially children.
In 2012, the Marriage and Religion Research Institute issued a report outlining a multitude of ways divorce may affect children. The 48 page report says effects can include depression, behavioral issues and weakened educational capacity among many others. Although these impacts may not always be seen on the surface, many encounter hindrances like these on a daily basis.
Two years ago, senior Lily Reighard's parents divorced. Reighard says the situation brought her anxiety which resulted in an academic slump in addition to the stressful atmosphere at home.
"First semester sophomore year I had straight A's and second semester I had two C's, so that was academically draining and emotionally it took a toll because the whole mood in my house changed," Reighard said. "It was very tense all the time."
Just as tension on a rope reduces its longevity, tension at home can cause students to act out, oftentimes at the cost of their social and academic well-being.
As a resource for families, counselor Kelly Lowery deals with both students and their parents regarding a variety of issues. She says there is not a predetermined course of action for students of divorced parents. However, she believes it is helpful to understand the family dynamics in order to properly provide counsel.
"There's not a 'one size fits all' approach [to divorce]," Lowery said. "What's hard for the student really depends on the student and the parents… It's helpful if [students or parents] share [if divorce is an issue] because then we know how to approach it."
Although my parents' divorce has come with its challenges, there is little that has shaped my character more than their divorce. For many others in similar situations, they share this sentiment.
Senior Connor Dyball endured his parents' divorce in his sophomore year. He asserts that while it was a difficult pill to swallow at first, there have been many positives to come from it.
"I think [the divorce] definitely made me a better person and I've matured faster because of it," Dyball said. "I had to learn to be more independent as far as not having both of my parents there all the time and I've also created a bond with my sisters. We're really good friends and always willing to talk to each other and that's an awesome thing."
When people think about divorce, they tend to think of it as a bad thing. While divorce does create a situation that is hard to acclimate to, it forces people to learn to thrive under altered circumstances. Having an open-dialogue relationship with siblings is supported by divorce as well as determining who your real friends are in a diverse, crowded setting like school.
Since the divorce of her parents, Reighard has noticed a significant change in her relationships with her brothers and friends. According to Reighard, these new relationships wouldn't have existed if it weren't for her parents' split.
"[My parents' divorce] definitely brought me closer to my brother who was at home because if our parents were fighting downstairs we would just stick together, hang out and talk," Reighard said. "I also talk to my friends if I'm feeling stressed out. Everybody has issues with their parents so [a person's] friends can relate to a lot of the same feelings."
The divorce of my parents has forced me to acclimate to a new reality, one I've grown to see as a blessing instead of a curse. I accredit my unique family dynamic to my own personal development in that I've become more mature, empathetic and organized. I've created meaningful relationships with my siblings, friends and parents (as individuals with feelings, not emotionless adults). Although I sometimes wish my situation was different, my parents' divorce has transformed my life for the better, unexpectedly molding me into the person I've always hoped to become.