Exploration of interests outweighs school involvement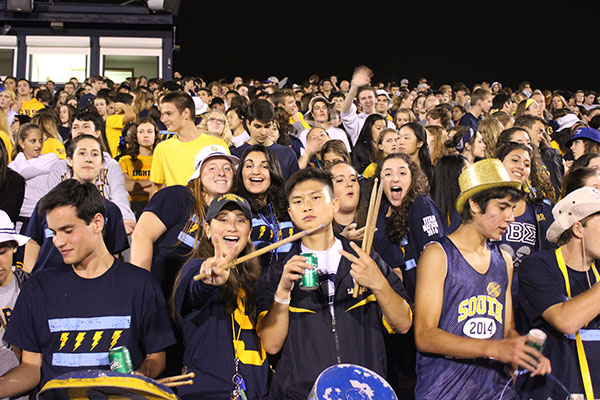 Evan Sawires, co-opinions editor
October 2, 2015
When the ever-enthusiastic voice on the PA commanded me to open the doors/windows in preparation for the first Friday football game of the year, I was immediately met by a familiar sense of anxiety working its way up my respiratory system.
In my three years at this school, I have never been to a football game. I went to one dance freshman year and hated it. I have anxiously sat through every sports assembly and fight song I've been subjected to in my time here. School spirit is not my thing. 
It's not that there's anything wrong with it, but it's not where I—a crowd-averse, frustratingly uninvested and somewhat academically bitter person—would like to spend my time. I am an unflinching believer that school belongs far, far away from the rest of my life.
There are probably many reasons for this. The main one is that when I hear the word "school", my first thought is usually "Oh God so much to do," rather than the more positive reaction I would like to have. Things that produce such reactions ideally have no overlap with purely positive things like friends and fun and Friday nights.
It's awesome if scholastic enthusiasm is important to you. You absolutely should go hard on Fridays if that's what you want to do. But honestly, you guys can get aggressive. Please stop getting mad at me for prioritizing other things. I'm willing to bet that I'm not the only person who feels vaguely disheartened every time someone tells me these are the best years of my life.
If they are, it's because of things that have nothing to do with school. I write music. I teach myself extinct languages. I go to leftist discussion panels. I read a lot. These things aren't on my transcript, but they have value.
I really don't want to sell school short. I've had some cool classes here; I occasionally find myself wandering into the Social Studies office just because it's got a good vibe. I've accepted that even the least interesting information I've learned has value, because the acquisition of new information has value in itself. Maybe I don't care about stoichiometry and will probably never have to consider its existence again, but I do know some stuff about stoichiometry now, and that makes me a better person just because now I have more knowledge about how the world works.
However, it's frustrating to hear that age-old assertion that my job right now is to study hard, so I can be a productive worker in an exploitative system in hopes of eventually being happy upon my retirement. That sort of rhetoric we hear in high school, especially with its focus on productivity and economic success, is crazily disheartening.
I'm here to learn some stuff, hopefully. That's about it. I'm sure when I graduate my feelings will be a lot more complex than they are right now, but I'm also sure that most will be overshadowed by a resounding "nice". All aspects of my identity besides "student" remain far from this building, and I've decided to keep them there. It's okay that, for whatever reason, I just don't prioritize "Getting Loud."