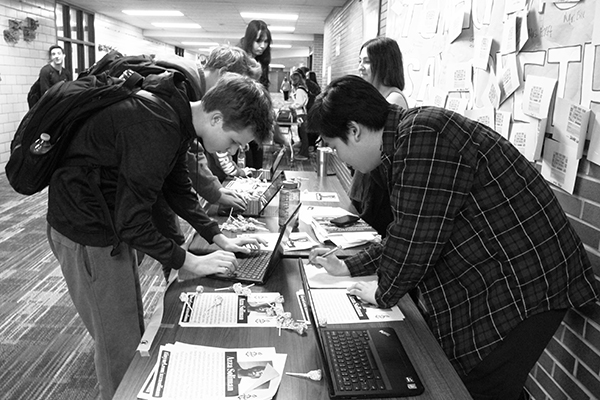 Collectively trying to save the world from its troubles is not what people think runs inside a high schooler's mind. However, Glenbrook South's Amnesty International club focuses on international human rights; they table petitions once a month during lunch blocks so that students can sign, according to senior Melanie Quadros, president of Amnesty International.
In February, Amnesty focused on human rights violations in India. According to the Amnesty International website, in October, India's government shut down non-governmental organizations, like Amnesty India and Greenpeace India's offices, where they work to improve conditions. Quadros adds that under this draconian law, equal rights for education for men and women were abandoned and human rights activists were arrested.
"By signing this petition, you're telling the Prime Minister of India to stop attacking these activists and organizations that are trying to benefit the people of India," Quadros said. "These actions that the government is doing are politically motivated; by signing this petition, you're telling the Prime Minister of India that people all around the world are aware of what's going on and that they will not tolerate it."
Quadros says that when petitions are tabled, students sign and they go directly onto Amnesty International's website. She adds that the club works to put posters around the school in order to emphasize the need to sign the petition. According to one of Amnesty's researchers, sophomore Ava Stevens, as teenagers, there aren't many humanitarian opportunities; however, the petitions alone exhibit compassion.
"We really try to advocate for the whole world," Stevens said. "We want to focus on different countries and regions, like the Middle East, East Asia or South America. We want to broaden our mindset, and look past our own country."
In March, Amnesty is focusing on a petition about Azza Soliman. According to Quadros, Solimon speaks out for victims of torture, domestic abuse and rape; as a result, she has faced harassment and issues regarding surveillance. Solimon was recently arrested and is facing charges for slandering Egypt's image since she spoke about the frequency of rape women face in the country. The petition was held during lunch blocks on March 6.
"By saying the facts of what's happening, she's being accused of slandering Egypt's image," Quadros said. "The petition will be handed to the President of Egypt and by signing this petition, you're allowing her to get all charges dropped and revoke her travel ban and frozen assets."
The petitions have helped people in the past, adds Quadros. She says that last year, the club wrote letters in order to get eight prisoners released, and by the end of the school year, they found out that all eight were freed.
According to Club Sponsor Jerry Fogarty, by advocating for different countries, human beings as a whole are united, despite differences.
"[Coming from Glenview], it's a constant reminder that not everyone in the world has our privileges and lives the way we do," Fogarty said. "We need each other, no matter where you are from."