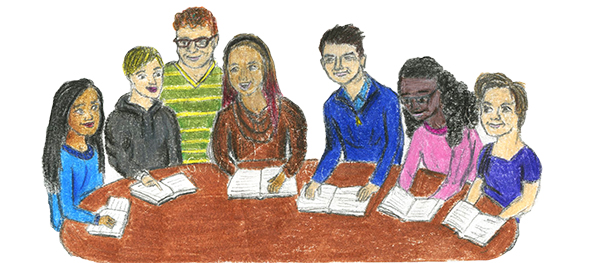 Reading is scientifically proven to increase brain activity, improve writing skills and broaden vocabulary according to the Society for the Scientific Study of Reading (SSSR), an organization which publishes studies on the effect reading has on people. It's something every high-schooler does whether it's for a class or enjoyment. According to senior Austin Sulejmani, reading gives one a baseline understanding of a wide range of topics.
"I think reading has made me an overall smarter person," Sulejmani said. "I've been able to dip my toes in a lot of [interesting topics] … so I think that's helped me a lot and I think that's [what] motivates me [to read] as much as I do."
Reading has been proven to improve test scores as well. According the British Cohort Study of 1970, which follows the lives of 17,000 people born within a single week in 1970, reading for pleasure was linked to heightened intellectual abilities in a number of different subjects.
According to junior Sofia Pedrelli, there are a number of distractions that come with sitting down and enjoying a good book. She says there is a fear of falling behind in other areas when reading is a possibility.
"When I sit down to read for fun, my first thought is: 'If I have time to read, what else could I be doing with my time?'" Pedrelli said. "I [question my decision to read] so I say to myself: 'Maybe I should just do [something else] and I'll read later.' But there's always something else [you can do] so you never get to read later."
Time management with balancing school work also becomes a factor when it comes to independent reading, according to sophomore Chaeyeon Park.
"I have so many books at my house that I haven't read yet," Park said. "I really want to read them but … I have so much school work [that it] makes me feel like I don't have enough time to even enjoy a book by myself anymore."
According to English Teacher Dayna Parenti, required reading in schools can be an agent that inhibits students' willingness to read for enjoyment. She says many students see reading as an assignment so they choose to occupy their free time with other activities.
"I think when kids have a book in school that they don't enjoy, then they don't really make it apart of their life outside of class," Parenti said. "They think: 'This is my experience with reading, and it hasn't been positive, so why should I do it?'"
According to Pedrelli, the reading done within the English curriculum reinforces the notion that reading is more of a chore than a pleasure. She thinks that forced reading makes students unwilling to read because they associate it with work instead of play.
"The books you read in English class are assigned to you and you're being forced to read them," Pedrelli said. "Even if you decided to read a book from school on your own, you may like it, but [then if you read it in school], because a teacher assigns it, it [feels like homework] so you may not want to do it for fun."
Last year, teachers in the English Department tried to create a new elective class where students could independently read books of their choice for 90 minutes, according to Parenti. Unfortunately, the class wasn't approved due to low enrollment, but Parenti still believes in its mission.
"When we talk about different electives kids can take and where their [passions] lie, I think that's an interest to a lot of kids and one that they don't really have time to explore in the regular curriculum," Parenti said. "If you give a kid an opportunity or open a doorway for [them] to find an author [or genre] they really like, and then they continue reading after that, that's a win."
Sulejmani explains that he was disappointed to see the class fall to low enrollment. He thinks the class would have been beneficial for students like him who would like to covet more out of reading than their conventional English class warrants.
Senior Fiona Hellerman says reading fosters curiosity and spawns unique passions for a wide variety of topics. She asserts that reading allows people to learn things they didn't know about themselves.
"You can cultivate your own interests by what you read," Hellerman said. "You can read about things that you're interested in and you can read stories that are exciting. Reading is just important in general and I think that when you find the time to read, you can learn more about yourself and you can learn more about other things."
Finding the time between homework, activities and distractions can be hard at times, according to Parenti. She says that making time to enjoy a good book from here and there is important for everyone.
"I'd hope that at some point in the future, everyone sees the enjoyment that can come out of reading," Parenti said.