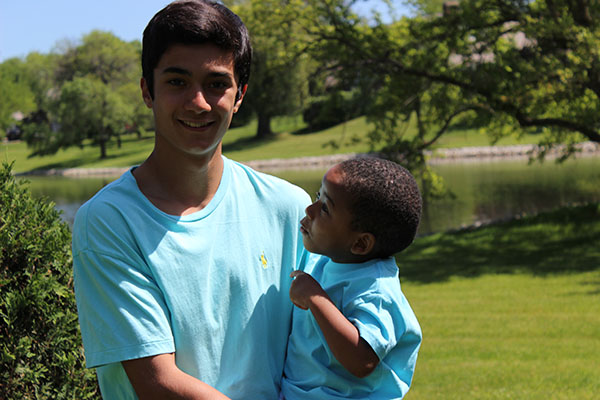 Every day, parents around the world make the difficult decision to give up the children they love in order for them to have a chance at stability and success. As a result, various GBS families have opened up their homes to embrace these children.  Whether it be temporary or permanent, the families say welcoming children into their homes affects not only the children, but the hosts as well.
According to senior James Catizone, he and his family have had many experiences with children temporarily living in their home. Catizone explained that his family participated in a program called Safe Families where they were able to take in children from struggling families.
"We heard about [the program] through our church," Catizone said. "Parents, usually single parents, can give up [their children] for a set temporary time if they feel they are unable to take care of them."
Catizone explained that this past fall his family opened their home up to another child.  Six-year-old King came to stay with his family and attended Winkelman Elementary School.
"Last fall, we had a 6-year-old named King and he was only with us for two weeks," Catizone said. "We still got attached and loved him. He was a sweet, nice kid."
According to Catizone, his family has taken in two different children. The first child was named AJ, and he stayed with their family during Catizone's sophomore year. AJ turned 3 years old during his five month stay with the family. 
"We got [AJ] when he was 2 and he was a twin; his twin sister's name was Ariyah," Catizone said. "It was supposed to be for three months because his mom didn't have money or a place [to live]. They were living out of their car, so we took him in. He was adorable. […] he adjusted so well [and] we became attached so fast."
According to Catizone, fostering children has had a positive affect on his family. During their stay, he said, the family became much happier.
"It sounds cliche, but everyone was happier and I was much more grateful," Catizone explained. "Like I said, I was a little skeptical [and] was being kind of selfish, [wondering] how this was going to add to our family dynamic. But having [AJ] was such a blessing, because it really opened our eyes."
Similar to Catizone, senior Sydney DeHorn and her family have also participated in Safe Families. Over the course of two years, the DeHorn family has opened their home to four different children.
"We've had a girl that was in high school, and we've had a [6-year-old] boy stay with us," DeHorn said. "We also had two [brothers], who lived with us for almost two years [and it was] probably the most amazing experience I've ever had."
DeHorn explained that her family developed tight bonds with each of the children who came to stay with them, and that the goodbyes were always hard when it was time for her siblings to leave.
"The one day stay was not as hard, but it was still hard to give someone [back]," DeHorn said. "With the girl, we had her for a couple months, so it was sad to see her leave. The boys we had for two years. I bawled when they left, it was so sad."
According to sophomore Emma Dill, her family decided to adopt a 4-year-old boy after he had lived with them for about a month. Dill explained that her family had been looking to adopt a child before deciding to open up their home to foster children.
"My parents had been looking to adopt a kid for awhile," Dill said. "They had said [to the adoption agency], that if there is a kid available, to let them know. When they found out my brother was available, they met him and they liked him. We brought him into our family to see if he would fit for a while, and we all loved him, so we decided to adopt him."
According to DeHorn, she saw a significant change in the children after their stay with her family.
"I think after you feed and clothe kids, they kind of gain a little bit more respect for you and your family and [the situation that they are in]," DeHorn said. "Not that they weren't respectful before, but they are very thankful and grateful that people are doing this for them."
While DeHorn believes having to bounce between homes can be detrimental to young children, she also believes it can benefit their lives.
"I think it has a positive effect in this situation," DeHorn said. "Especially because they didn't have too much, [getting] into this situation where someone is able to feed them and clothe them, they gain a new perspective. […] I think that the only negative part is that they have to move around so much. But I really do think this is a positive thing. This program brings in kids and provides them with so many opportunities by living with these families."