Nickele promotes IWW, feminism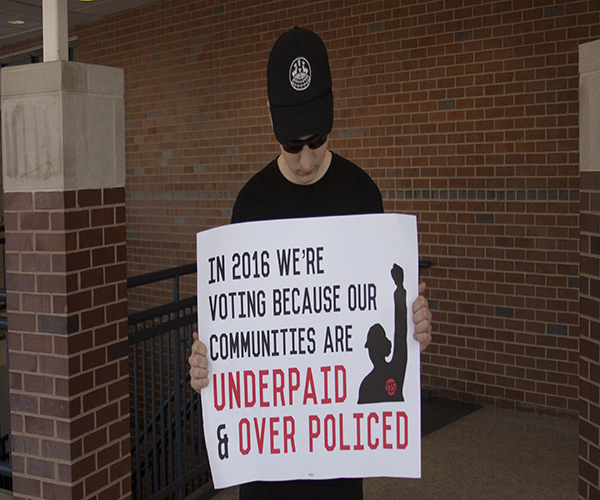 Lily Sands & Sharon Kim, staff reporters
February 5, 2016
The fictional tales of Robin Hood and King Arthur are renowned for their themes of preserving justice and achieving equality. For South senior Angelo Nickele, his favorite childhood stories influenced his interest in socialism. Nickele found his socialist ideas of equality at the Industrial Workers of the World (IWW), which he explained he later joined.
According to Nickele, he currently works at the IWW as a general member. Nickele conducts research for a railroad local that does maintenance on trains while planning out campaigns, resulting in legal benefits.
"From the Union, I get a newsletter where if I run into any legal trouble [having] anything to do with the Union, I get their lawyers [to] represent me," Nickele said.
Nickele explained that IWW aligns closest with syndicalism, a form of socialism in which the ownership and control of the means of production are distributed within unions.
"I liked the idea of equality and people working together for a common good," Nickele said. "I got interested in history and last year when I was doing the [AP US History] research project, I found syndicalism… [It] was like all of my ideas wrapped up into one idea."
According to Nickele, his AP US History research paper inspired his involvement in the IWW. AP US History teacher Ryan Kinsella explained that Nickele's paper focused on unions and their influence in history.
"I think it strengthened his knowledge on unions and gave him the knowledge base that he needed then to do something like join the [IWW]," Kinsella said.
According to Nickele, his interest in the Union only increased when he attended the first IWW meeting at the Chicago Public Library about a year ago.
"I felt […] nervous for the first five minutes or so," Nickele said. "I sat right next to a couple members that I knew already and then the discussion was like a discussion I have had at school or clubs, so I felt comfortable getting involved."
According to Nickele, most IWW members range between ages 23 and 32.
"I am one of the youngest members probably because not a lot of other kids really knew about [the IWW] and gotten involved," Nickele said.
According to Nickele, he has had an internship as an AUTOcad technician doing computer aided drafting for two years,  making himself eligible to participate in the IWW. According to Nickele, he hopes to get a job as a labor lawyer in the future.
"Socialism got me involved with research in IWW […] and through them I have done readings where I've looked at labor laws from the national labor relations board," Nickele said. "I found all that really interesting…That is exactly what I want to do."
According to Nickele, his views on socialism and seeking equality for his sister fueled his involvement in the Feminism Club at South.
"My sister has been bullied by people a lot and I really want to stand up for her and other people," Nickele said. "The whole idea of feminism is really important to any sort of social movement…since it encompasses over half the population."
According to sophomore Fiona Hellerman, Nickele voices his passion on diminishing social inequalities through the IWW and  Feminism club.
"During Feminism club, [Nickele] gave me a pamphlet for the IWW […]" Hellerman said. "I looked through it and because I had my sketchbook with me, and I keep flyers and stuff in there, and then [Nickele] said, 'You should put that in there and write some notes about it.'"
From the IWW, Nickele claimed that he was able to gain real world experience outside of South. According to Kinsella, Nickele has a strong passion towards learning and expressing his socialist passion outside of South.
"I remember [Nickele] once asking me if it was okay if he didn't come to class one day so he could participate in a rally to support fast food workers and their fight to increase their wages to a living wage," Kinsella said. "Of course I couldn't give Angelo permission to do that, but I think that speaks to the type of person he is and his character."
According to senior Allison Kraft, Nickele's vision on raising minimum wage is strong, even in the community of Glenview.
"My friend works at [Wagner Farm] in the ice-cream parlor and […] he only makes like 8 dollars an hour or something, and Angelo was like, 'We're going to change that,'" Kraft said.
Senior Evan Sawires says that she had attended the Socialist Convention with Nickele this past summer. According to Sawires, his interest in socialism remains powerful.
"[Passionate] is the number one word to describe Angelo," Sawires said.