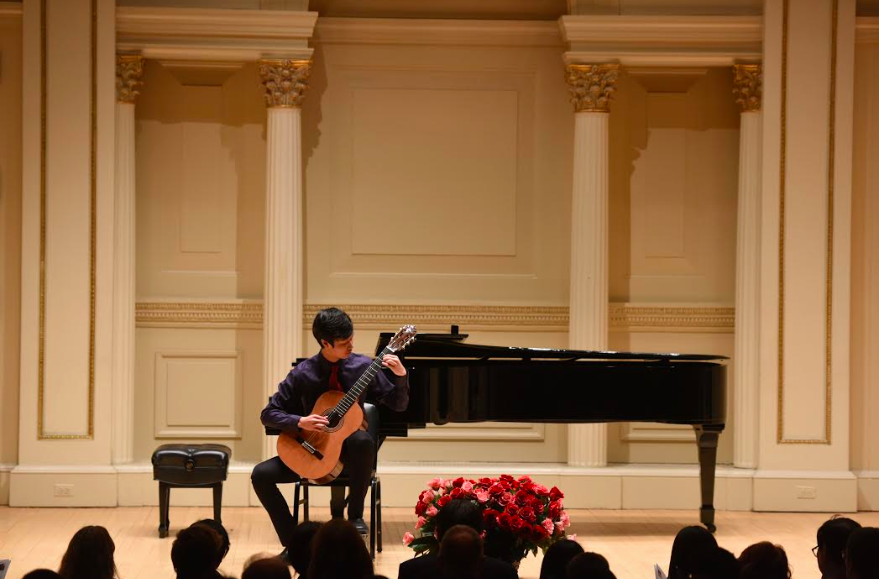 photo courtesy of Jeremiah yang
"Try not to make a mistake." According to junior Jeremiah Yang, this is what he tells himself when he plays classical guitar in front of an audience. Yang says he has been playing classical guitar since the age of 8, and in the fall of 2014, Yang performed at a musical showcase at Carnegie Hall, a renowned concert venue in Manhattan, New York.
According to Carnegie Hall's website, one of its missions is to bring the power of music to a wide audience.
Yang was able to go to Carnegie Hall after he entered into the The American Protégé International Competition of Romantic Music 2015. According to the American Protégé International Music Talent Competition's website, this competition is for gifted children that want to pursue the arts in future. It also demonstrates immense talents in the arts and gives people a glimpse of the performers talent.
Yang says that his mom was actually the one who found the competition and he agreed to send in a recording for the strings section. He says that he did not think much of it, but when he came home from school one day, his mom announced he was a winner of the competition. Yang placed second in the strings section, and as a result, he was given an opportunity to perform at Carnegie Hall.
According to Yang, this competition was international, so anyone could send in a recording of their music. At Carnegie hall, Yang performed with other winners of the competition. He says he was a little nervous because he was performing with so many talented musicians.
"It wasn't just me playing, it was also other people who had also won the competition," Yang said. "I was kind of nervous because I was listening to these other people and they were insanely good."
The American Protégé International Competition of Romantic Music 2015 was not Yang's first competition. According to an article on the Skokie Public Library website, in 2014, he won first place in the Granquist Music Competition playing guitar.
In addition to playing classical guitar, Yang plays the alto saxophone for the band at South and used to play the piano and drums. According to band director Greg Wojick, Yang is disciplined and has important leadership qualities.
"I always find him to discipline himself from the standpoint of having all of his stuff," Wojick said.  "He's prepared all the time, he doesn't talk to other people when he's not supposed to. He doesn't have his cell phone on. He has self- discipline about him and this leadership quality that you need to be a good musician. "
According to Wojick, Yang's character is a positive presence in the band.
"He cares about the people around him and he is just a good person," Wojick said.
According to Yang, he does not see music in his professional future, but he will continue to keep playing in his years at South, possibly even playing in this year's Variety Show.