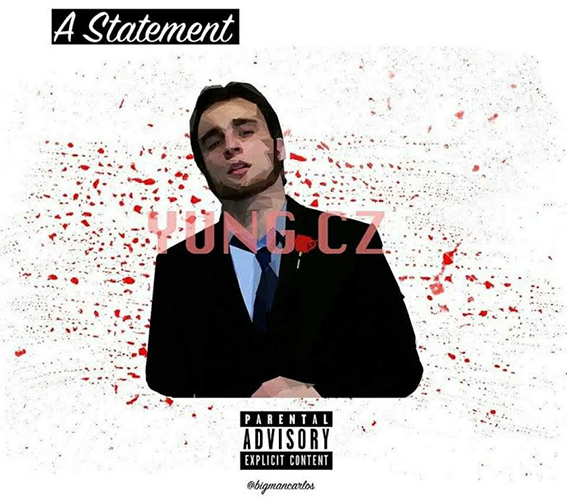 While many high school students are awake until the early hours of the morning completing homework, projects, studying or surfing the internet, some students are writing and recording their own rap music. For senior Connor McCann, rap is one of the most popular forms of music right now, and South students can test their creativity by creating their own beats and lyrics.
Rap music is about relating to others and giving the people a voice, according to McCann. Any genre of music can serve as an escape for people, but rap specifically gives people an outlet and something to look forward to, McCann explains. According to junior Kenny Mathew, rap helps people get new ideas and be creative.
"[I began rapping because] I just wanted to talk about stuff," Mathew said. "I felt like, [for] my whole life, I couldn't do [anything] about stuff that was going on in the world. I feel like [by] using music we can express ourselves. You can impact someone's life with music and I thought, 'I want to do that with my music.'"
According to McCann, there is more to rap than what most people think. Giving less fortunate people a voice is one of the most rewarding aspects of being a rapper, McCann explained.
"[Rap] gives these kids, and everybody else, a voice that nobody would be listening to if they couldn't make music," McCann said. "Nobody really cares about what the kid who is growing up in poverty has to say until he makes people listen to him, and I think that's what it really does. It makes people listen to the people you never would have otherwise listened to."
According to McCann, after releasing his first mixtape last year, receiving positive feedback and having people enjoy his music, he felt validated as a rapper. Despite what may happen after high school, rap will always be a passion and a hobby for McCann.
"Some people think that [rap] makes you appear as a bigger person than you are […], but rap music lets me be someone I'm not, but at the same time, be who I am the most," McCann said.
According to senior *Nick Park who has both produced for other rappers and rapped himself, rapping is an issue about image. According to Park, the people who are the best at rapping are the ones who rap just to make music. A number of South students who rap do it for popularity or to fit in, which takes away from the true meaning and roots of rap music, Park explained.
"It really troubles me that certain types of art are valued more than others, in this society specifically," Park said.
Rap plays a specific position in different societies and cultures, according to Park. Although people in poverty were oppressed, they found a voice and an outlet through rap music, Park explained.
"Those people didn't have a voice," Park said. "This was back in about the '60s, and people still oppress them today. That outlet is permanently infused with rap because that's the big idea: [that] those people's ideas are finally being heard. It's a story of the individuals rising up."
Rappers try to use their artistic talents to help others recognize all forms of art equally, according to Park. What keeps others from appreciating it is that they don't view it as a form of art.
"I created a poster for [another student's Student Council campaign] in Photoshop, and I posted it on Facebook and it got about 90 likes or so, it got immense popularity," Park said. "A day later, [a different student] contacted me and [asked for help creating a rap for their campaign]. So we recorded it and put it up [and we got] instant hate [and] instant backlash. And it just lends insight into how backwards that is that some people think that rap is inferior to any other type of art."
According to Park, the main idea of all forms of art is to express oneself, and rap is just one form of creativity. Everyone has a passion or a hobby, and it is a disservice to others to look down on anything that brings another person joy or is a form of self-expression, Park explained.
Rappers receive a lot of disdain and are judged in modern day society, according to McCann. People who rap deserve as much credit and positive recognition as any other artists McCann explained.
"I think people should, before they start to hate on somebody for rapping, realize that [rappers] are pursuing their dreams and while you may not like that yourself, this is life to some people," McCann said. "Before you are quick to judge them, think about what their position is, think about how they've grown up, how they've lived, and just think before you judge. You're going to be regretting it one day if you're real quick to judge these kids."
Mathew explains how the power of rap, and music as a whole, inspires people and is something everyone can relate to. He explains how his own rap lyrics are mainly about society and things people can relate to, whether it is a common struggle people have shared, or good times people have celebrated together.
"Rap can empower people, like music, any kind of music, it's just always [giving] people the power, giving people new ideas, giving people ways to express themselves," Mathew said.
Rapping can also bring students closer to their friends and other people who support them, according to Mathew. The constant support from peers, who at the same time push him out of his comfort zone, have helped him reach this point. McCann agrees with this sentiment, explaining how his friends encourage his passion.
"My friends definitely support me," McCann said. "A lot of people used to make fun of me and they used to say, 'You're never going anywhere with this'. I think I've done a good job hopefully of proving them wrong."
*names have been changed