Girls' volleyball overcomes team struggles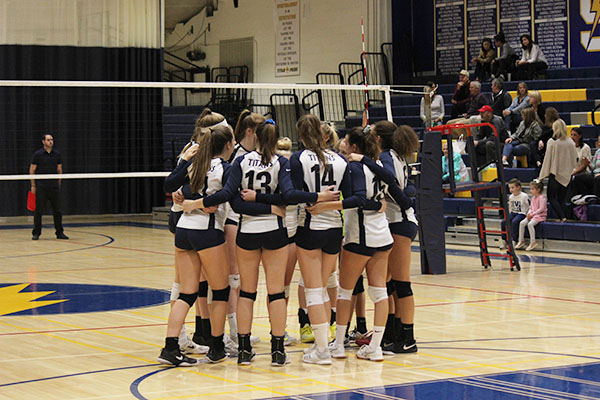 with each pass as they attempt to set up their next hit onto South's side of the court. As the set is made, and the hit is followed through, junior Vanessa Kuliga shuts it down as she charges the net. Kuliga denies a point added to New Trier and stirs up confidence for the Titans.
The girl's volleyball team finished their their regular season with a 18-16 record. Despite the loss, head coach Kelly Dorn says the team has won other major games against Niles West and York as a result of their talent coming together.
"We played really well against Maine South," Dorn said. "The talent is there, it's just everything clicking at the same time is what does not happen sometimes."
The team hit a rough patch mid season due to lack of the right mindset, according to co-captain Ellie Eisenberg. The team would either come in with too much confidence or not enough for bigger matches.
"We definitely need to work on having the right mindset and keeping the good attitude," Eisenberg said. "In games like New Trier and Loyola we play scared and more on the defensive side, when we should be more on the offensive side."   
Co-captain Kate Gregory expresses how the team consists of great players, yet they struggle to make everything click and win the game.
"I think [the struggle to put it all together] comes from a fear of messing up," Gregory said. "We get so hesitant in ourselves and we don't play the best we can play, so we've had some rough losses but we've also had some great wins."
The varsity team currently has one freshman, three sophomores, five juniors and three seniors. According to Dorn, the youth on the team serve as both a strength and a weakness throughout the season.
"We're too naive to be nervous about things or to be hesitant which is a positive so you can just go into things without those preconceived notions of we should beat this person or we [can't] beat this person," Dorn said. "But it's a weakness in the fact that we make random mental mistakes over a free ball."
At the beginning of the season, a team goal was to maintain consistency through all areas of play as well as trusting each other. According to Dorn, since the girls are young, there is a lack of consistency.
"I would also like a bit more longevity,  [during] the long tournament" Dorn said.  "It's hard for them to maintain, they kind of burn out early on. I want them to have that long burn, that long maintenance."
The Titans competed in the IHSA state playoffs and won their first round game against Palatine on Oct. 23 within 2 sets. Then, the Titans faced Loyola and lost within 2 sets.