Men's tennis looks to boost current record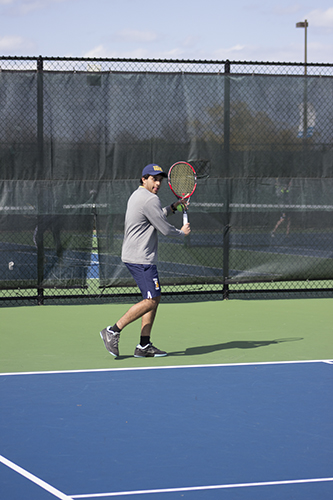 The men's varsity tennis team has kicked off the 2015-2016 season with a 1-2 record. The team has faced numerous meet cancellations as a result of cold weather, totaling to three so far.
According to Senior Captain Vinny Ahluwalia, the mix of meet cancellations and getting the team back into gear has been tough but the coaches have been able to turn cancellations to an advantage.
"It is a bit of annoying because we like to compete," Ahluwalia said. "We just love competing and we would rather be competing than practicing. But during our practices we don't emphasize anything, we practice everything from ground strokes to consistency."
Ahluwalia attests that despite the cancellations and the team's need to get fully into the swing of things, the boys show promise.
"It's one of the strongest teams I've seen since [playing for GBS]," Ahluwalia said. "We only lost one  key upperclassmen last year [and] we have a lot of strong underclassmen. [Underclassmen bring] diversity [… and they will] get a lot more experience on the varsity team in the upcoming years. [Also] our lineup overall is more effectively placed. We have the best people working together in doubles. We just have an overall better team."
According to  Ahluwalia, the team's potential shined through on April 5, when the boys hit the court for their first match against Oak Park River Forest. The team walked away  with an overall record of 4-2. Ahluwalia pinpoints Oak Park River Forest's weakness as serve returns.
"We haven't beaten Oak Park in two years, and all of us had really strong showings,"  Ahluwalia said. "It was very close, but regardless, we showed that we can play. Their serve returns weren't as strong as we expected, so we attacked those especially on the backhand side."
According to freshman Michael Bukhalo, the team then went up against two tough competitors, Highland Park and Deerfield. The Highland Park meet ended with a team score of  1-6, while the Deerfield meet finished at 2-5. Bukhalo acknowledges the stress that comes along with playing tough opponents as being a large factor in the loss.
"It's a lot more nerve-wracking to play against higher competition teams, but we have to play the same no matter what team we play against," Bukhalo said. "We weren't able to do that. A lot of the players felt like they could have won their matches. Some players lost by a big difference and have to improve."
Bukhalo also compared and contrasted Highland Park and Deerfield. By saying that both teams had individually strong players, but Highland Park was overall a tough competitor.
"One of the similarities was most of [both of the teams'] players play tournaments but the differences was Highland Park was a better team in general [while] Deerfield had really good top spots whereas their bottom spots weren't as good," Bukhalo said.
Bukhalo comments that despite the team as a whole not coming on top, there was an individually impressive match; first doubles played by sophomore Rohan Gupta and junior Sebastien DesRoberts.
"Rohan [Gupta] and Sebastian DesRoberts beat one of the best team's in state [in doubles] team which was a huge win for them," Bukhalo said
The next time the boys hit the courts is April 27 against Rolling Meadows Highschool.