Men's lacrosse aims to improve under new head coach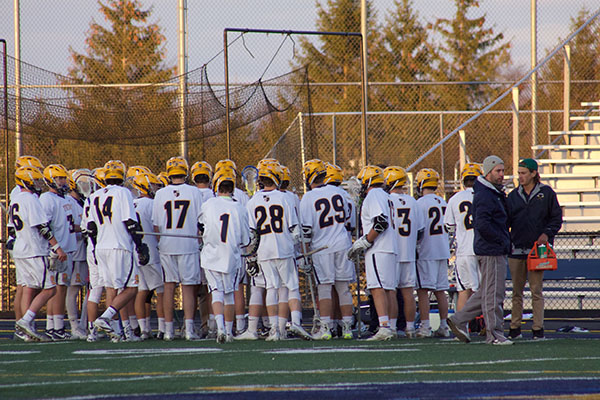 Georgia Arvanitis, co-sports editor
April 22, 2016
In 2015, the men's lacrosse team ended with a record of 8-9 and are now looking to advance farther in the playoffs, according to senior Ben Herzon.
The men currently have a record of 2-5, according to Herzon. According to junior Alex Ferrone, New Trier and GBN are the Titans' toughest competitors.
According to Herzon, the team had to adjust to a new coaching style by Head Coach Will Jeffery.
"With a new coach and a completely different system, it's  been hard to adjust," Herzon said. "However, our team is starting to adjust and work together as a unit, [which is] resulting in some good wins."
Senior Nate Stadler speaks to the changes made this season.
"We run a completely different offense and defense that we are still trying to adjust to as the season moves forward," Stadler said.  "Practices are much faster paced, and much more competitive."
Stadler believes that the team has more work to do to prepare for big games and for the post-season. The team has been working on stick work,  clears, defensive plays and off-ball movement during practices.
"I don't think we have played to our full potential yet, but once we put everything together, we will have a very special team this year," Stadler said. "Our biggest games are against New Trier and Glenbrook North, both of which we play at the end of the season, so we will be preparing the entire season for those games."
According to Ferrone, the team has gotten closer and the changes have improved the team chemistry, creating a winning atmosphere.
"[Our] new coaching staff, great team chemistry and new offense will definitely give the other teams a hard time," Ferrone said.
However, Ferrone believes the biggest change has been what the team is doing outside of playing the game.
"We've come together more as a team and created a whole new atmosphere," Ferrone said. "We did a bunch of community service [projects] that brought our team closer together, and that was the biggest change.
Sophomore John Casey believes that despite the losing record at the beginning of the season, the team will improve.
"I think this year we'll go farther in State than most expect," Casey said. "We've had a slower start to our season but have grown exponentially since then. In addition, I think our record will be deceiving to others, [and] I don't believe it is representative of our talent."
The men face the Spartans at GBN on April 28, and the Trevians at home on May 3.