Women's gymnastics ends season with undefeated record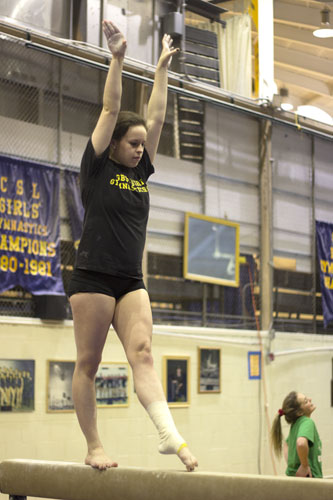 The women's gymnastics team ended their season undefeated with one tie against New Trier High School. The Titans sent freshman Hannah Hartley to IHSA State on Feb. 21 and 22 as the sole representative of the team.
The Titan gymnasts were undefeated in dual meets, and their training was tested with a dual meet against rival New Trier. According to senior captain Alison Tye, the team was nervous because of their high chances of winning, but the meet ultimately ended in a tie.
"[The meet] showed [our team] that the hard work we put in is going to pay off in the long run, and it forced us to work even harder because the next time we saw New Trier we really wanted to prove that we were the better team," Tye said.
As the only state qualifier from the Titan gymnasts, Hartley believes that State was something that the entire team was able to experience with her.
"The road to State was very stressful because I didn't know what to expect, but being there with my team made everything [more] fun and [easy]," Hartley said. "I couldn't have done any of it without the support of [my teammates], and [they've] been beside me the whole way."
The Titans won meet after meet at the start of the season and were working towards going to IHSA Sectionals and State as a team. According to Tye, with limited spots and a talented roster, everyone was working at 100 percent to make it to State.
"[The team] was [pushed] to work even harder this season because not everyone would necessarily compete in what they wanted to or what they thought they were good at," Tye said. "[This season] really forced us to learn new skills and work on our technique in order to keep our spots on each event."
According to Coach Steve Gale, having a group of young gymnasts really rounded out the team and added a depth to the gymnastics program that had been absent in the past few years.
"The three freshmen [especially] really helped round out the depth on the equipment," Gale said. "[They] still need more experience and will become more solid."
This season's roster was primarily made up of returning seniors Amanda Browder, Tye and Hartley as well as freshman Katie Wahl and Julia Stadler.
With such a wide range of ages on the varsity level, Tye and Hartley focused on bringing together the team on and off the mats.
"It was a good experience for all of the upperclassmen [to incorporate the freshmen into team] because we needed to be a team to compete the way we competed," Tye said. "We did a lot of team bonding that was the highlight of my gymnastics season."
As a result of the success of the 2014 women's gymnastic season, Gale believes that the girls will come in next year even more competitive and hungry to become more aggressive and better athletes.
"You can measure success in any number of ways in a high school sport, [such as] wins and losses, and the kids all worked hard. They pushed each other, and I'm very proud of what they did," Gale said.
About the Contributor
Justine Kim, Staff Writer
Justine Kim has been a sports writer for The Oracle since the fall of 2012. Justine loves sports writing because it keeps her on her toes. She loves being...