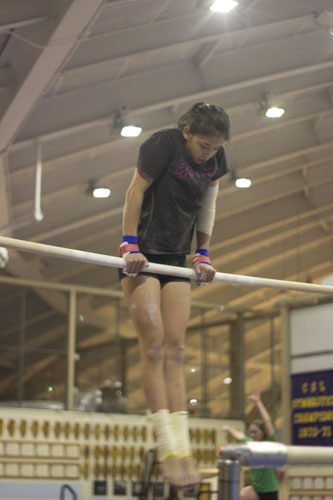 It's rare to have three freshmen on one varsity team, but this year's girls gymnastics team welcomed freshmen Hannah Hartley, Julia Stadler and Katie Wahl. All three girls have been doing gymnastics since around the ages of 3 and 4 years old. According to head coach Steve Gale, he heard of the freshmen before the season started. Around the beginning of the year, he was told by their club team coaches that he would be happy to see them perform. He liked what he saw. He wasn't sure whether or not they would make the varsity team until the first day of tryouts where he saw, right away, a great amount of talent in all three of the girls, Gale said.
"[I knew] on the first day of tryouts. One quick glance and that's it, [they were] on," Gale said. "It didn't take any serious review of their skills when I saw what they could do. First time up on the equipment they were varsity."
Freshman Hannah Hartley started gymnastics when her mom signed her up for classes as a kid. Hartley's mother did gymnastics throughout high school and college and wanted to get Hartley started early. She was one of the three freshmen this year on the varsity gymnastics team. Being a freshman on the varsity team, Hartley explained, wasn't bad because through her early years of gymnastics she ended up knowing a few of the upperclassmen already from practicing with them. It also helped that they all spent a lot of time together doing extra, out- of -school activities.
"It's kind of intimidating. It was helpful knowing some of the [upperclassmen] and also other freshmen," Hartley said.
Her transition onto the team proved not to be a problem as she continued her season. According to Hartley, her best meet was at conference, where she placed first in vault, beam, floor and all- around. She's not quite sure, however, what her gymnastics career will lead to.
"I think it would be fun to do [gymnastics] in college," Hartley said. "I don't know if I'd be able to, but it's always a cool idea to think about."
Julia Stadler, who did Dream Gymnastic's Pre-team program, a level of advanced gymnastics where the gymnists practice at a advanced level but don't compete, started when her mom signed her up when she was 4 years old. According to Stadler, when she performed at State last year through the Gymnastics Shop, a club gymnastics team located in Mount Prospect, she got off to a rough start. By the end of the meet she reached her full potential and then qualified for regionals for vault and floor. Being a freshman and playing on the varsity team this year, Stadler said that her transition onto the team wasn't too bad.
"[The transition was] different… but everyone on the team was really welcoming and really nice, and we became close really fast," Stadler said.
Another freshman on the team, Katie Wahl, first did gymnastics at age 3. According to Wahl, she competed through Pre-team starting at age 7. At her first few meets for Pre-team, she performed at level six, which was the second level she competed at. According to Wahl, she did poorly and got hurt performing. Wahl said that, although she was sick the week before the competition, she still performed, and ultimately learned that gymnasts need to be able to overcome the bad meets.
"I realized, once I did [get a bad score], that it does go up and it goes down and I just have to deal with it," Wahl said.
Wahl proved she could bounce back, however, when she competed at Level Seven State in seventh grade. There, she received her best all- around and won bars and according to Wahl, this keeps her motivated when performing an event. With her high school career going so well, she's still not sure if she would be able to continue the sport in college.
"I've struggled with a lot of injuries, so I'm not sure if my body can hold up because gymnastics is pretty hard on your body," Wahl said.
According to Gale, the three freshmen performed well at every meet of the year, giving it their all. They demonstrated skill that varsity level players should have, Gale said.