Oren Danino becomes first male cheerleader since 1980's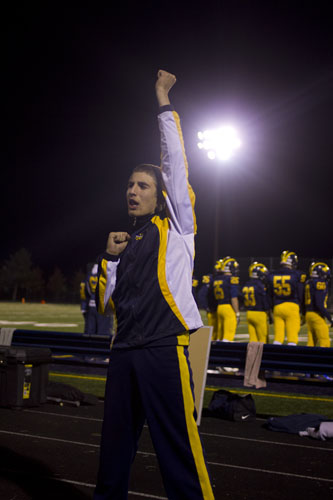 Hannah Rauh and Dan Arenson, staff writers
November 8, 2013
Hang on for a minute...we're trying to find some more stories you might like.
Sophomore Oren Danino is breaking tradition and gender barriers by being the first male on South's cheerleading squad since the 1980s, according to Stephanie Fuja, varsity cheerleading coach.
According to Danino, he had no previous experience in cheerleading before trying out for the South team.
"Ashten [Collett], [who's] on the team with me, kept posting a lot of videos [to Facebook] that she didn't even mean for me to see," Danino said. "And I saw the videos and I'm like, 'I want to be able to do that.'"
With this new inspiration, Danino decided to try out for the team and made varsity, much to his surprise.
"I was really shocked," Danino said. "I didn't expect it. I didn't expect anything about cheerleading. I just know I wanted to be able to do what I saw in those videos."
Before the season started, Danino and the squad trained at a camp for cheerleading over the summer.
According to Fuja, Danino and his teammates came together and grew closer as friends.
"At camp this summer one of his flyers was very nervous with a new base […] and [Danino] was backing her and said to her, 'I know you can do this. I have faith in you, and I'll make sure you won't fall,'" Fuja said.
According to Danino, a fellow teammate was injured while performing a stunt early in the season, and Danino carried her to the trainer.
"A friend of mine on the team, Kara, she tore her ACL," Danino said. "It just struck me there that I support my [teammates] and they're going to support me and I guess that really [hit] me."
With being the only male on the team, Danino was aware of the oncoming judgement he would receive from his peers by joining South's squad.
"There have been [comments] like 'Oh yeah he's just doing it for girls,' [and] 'Oh, obviously he's gay,' but honestly I don't feel that way," Danino said. "I never did cheerleading for the girls. I never did any of those common cliché controversies."
Danino was not the only one worried about criticism for being on the team. According to Fuja, thecoaches also had doubts about the reaction regarding Danino being on the team.
"[GBS] wasn't used to seeing a guy cheerleader," Fuja said. "But truthfully, at the first football game, the support he got from the Pep Club was outstanding and was the complete opposite of what I expected."
Although there seems to be no trouble regarding Danino being on the team currently, his teammates are all standing behind him.
"If someone's bullying [Danino], then [he can] come to us and we'll help because [he's] part of our team now," sophomore Asthen Collett said. "[He's] part of our family."
The first word that pops into Collett's mind when thinking about Danino's personality is the word "crazy."
Danino is a very enthusiastic team member but is also focused on improving his skills and becoming a better cheerleader, according to Fuja.
"Oren is very outgoing, kind of crazy but mostly in a positive way," Fuja said. "He's very passionate and has a lot of passion for the sport of cheerleading and being a part of the team."
While Danino is known for his energetic personality, he is also dedicated to his teammates and to making the team better, Captain Tara Graff said.
"[Danino] does have a serious side to him sometimes and he does make a lot of really invigorating comments," Graff said.
Danino is close with his teammates, but there are still some differences that cannot be ignored, according to Danino.
"There are some difficulties like not knowing who to turn to for help and stuff," Danino said. "I help the girls out with everything they need and they help me with everything I need but also the fact is, there's always going to be that gender difference that I can't take away."
According to Danino, he does not regret joining the team and is grateful for the experience he is having.
"It's amazing," Danino said. "There's are not many downsides to it, and it's amazing just being around them. It's going to be one of those things that I remember when I'm 40 years old, and I can honestly say I don't know where I would be if I didn't try out."