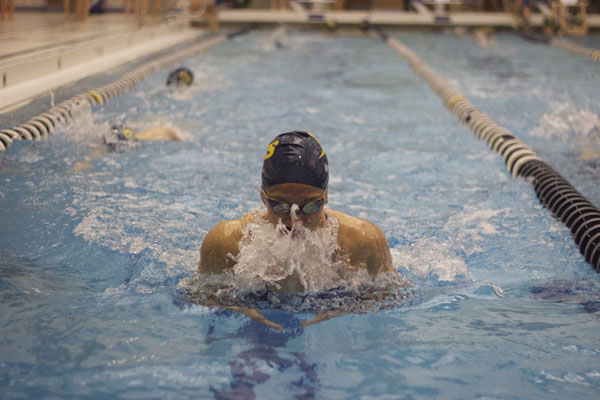 Despite the loss of key alumni swimmers from last season, the women's swim team looks to place top 10 in state again, according to head coach Keith MacDonald.
"We graduated a talented senior class," MacDonald said. "It's kind of a like a fresh start for this team. Everyone has gotten along really well, and the seniors have done a great job of leading the team this year."
Among the key alumni is Olivia Smoliga, who is now swimming at the University of Georgia. According to junior Katie Wells, although she has noticed the difference, she doesn't let it define the team this year.
"It's just been harder to win meets because we don't have her to fall back on now," Wells said. "We've definitely had to step up and go faster because the younger and less experienced ones are falling back on us now. It's been harder, but we're surviving."
Aside from the loss in key swimmers, the team has had much success with their conference season. They are currently 4-2 in conference with losses to New Trier and Evanston.
"We lost against Evanston because they have way more depth than us, which means their second and third swimmers in an event are as strong and fast as their first," Wells said. "But we still had a lot of fast swims regardless of our loss."
According to Cordes, one meet that the team swam particularly well in was the Spartan Spring Classic.
"We had a bunch of fun," Wells said. "We were just going crazy. We had a bunch of people go really fast and place. That was the meet where I broke the [school] record in the 100 breaststroke, so I was feeling really good that day. It was a good meet."
Along with the 100 breaststroke, Wells has also broken the school record in the 100 IM.
"We have some really fast school records, and she has probably [the] top six times in the state in four events right now-100 free,100 breast, 50 free and 200 IM," MacDonald said. "She has been a real talent."
Wells, who is looking to make it back to the top six in her events, is really excited for the next part of her season.
"I think [the rest of the season will go] really well," Wells said. "We will have a lot of best times out of the rest of the girls, because they have been working really hard. In finals, I think that I could potentially go top three in both my individual events, so that's my major goal."
Along with Wells, senior Bailey Moynihan, junior Diana Capota, and junior Kelly Cordes are also key contributors to this years success in the first part of their season, according to MacDonald.
While the team is still focused on their regular season, the second half of the season is becoming more prevalent in their training. According to MacDonald, it's almost like there are two seasons. One is the hard training, the dual meets and the invites, and the second is the championship meet season, which is conference, sectional and state.
"Were gearing up for the second and most important part of the season," MacDonald said.