Girls swim to success despite changes to team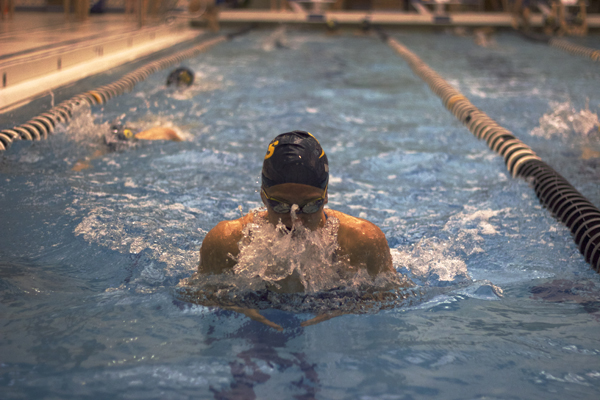 The women's swim team started off the conference season with a first place finish in the 200 yard relay against Deerfield High School on Sept. 6. The relay team included senior Bailey Moynihan, senior Lizzie Baetz, junior Diana Capota, and junior Katie Wells.
"[The season so far is going] swimmingly," head coach Keith MacDonald said. "We consider ourselves a top ten team in the state [and the team] is solid through [whatever] weaknesses [face them]."
The team is dealing with new changes for the 2013 season, including MacDonald taking over as head coach, and a group of new varsity swimmers including junior Georgia Kotsinis and freshman Sam Casey.
"There [are still] a lot of unknown things right now like we don't know who's going to be the third or fourth person on a relay," Wells said. "I think whatever events we'll end up swimming we'll do really well."
The team competed in their third meet of the season against GBN on Sept. 20 and won 109-77. Junior Kelly Cordes was pleasantly surprised with the outcome.
"The [GBN meet] was great" Cordes said. "We were expecting a close meet but we ended up winning by a lot on all three levels [and] Coach MacDonald's coaching and practices are different than Coach Timson's but so far we have only been seeing positive changes".
However, according to MacDonald, the team has faced challenges this year despite their successes.
"[The team] lacks depth [because] of the loss of a big senior class last year," MacDonald said. "[But each swimmer] brings a lot of enthusiasm and energy to the team."
In particular, the losses of former varsity coach Kelly Timson and national record holder alum Olivia Smoliga have had a serious impact. However, Wells believes that the team prepared for the moment for the two to leave them and was ready to take on the challenge.
"It is a really big loss but I feel like we prepared to lose [Smoliga]," Wells said. " [We'll prosper] even though we lost such a big contributor to the team and I think that we will somehow find success without her great contribution to the team."
According to Cordes and Wells, the team's primary focus is to end the season as one of the top 10 teams in the state. Wells believes that the determination of the team will push them to winning some state titles.
"We're really motivated to be the best team we could be and live up to the legacy that the seniors left for us last year". Wells said. "I think that our determination to be the best that we can be is our main strength."
About the Contributor
Justine Kim, Staff Writer
Justine Kim has been a sports writer for The Oracle since the fall of 2012. Justine loves sports writing because it keeps her on her toes. She loves being...