Bob continues Meyer legacy in South water polo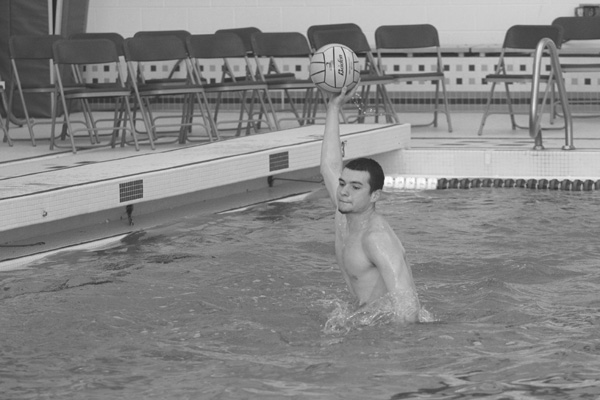 Hang on for a minute...we're trying to find some more stories you might like.
From bench warmer as a freshman to starting at hole set this year, senior Bob Meyer has come a long way in his water polo career at South.
The Meyer name is no stranger to water polo. Tom Meyer, Bob's older brother, started at goalie for four years for the Titans and excelled at his position, earning second-team All-State honors. As the younger brother, Bob saw first hand what it took to succeed by watching his older brother, and according to David Lieberman, head men's water polo coach, this could have created some healthy competition.
"There's probably a little bit of a sibling rivalry, a little bit of competition," Lieberman said. "They try to one-up each other."
As much as the two brothers tried to be better than the other, the fact is not lost on Lieberman that Tom led his younger brother into the sport.
"I think [Tom] introduced him to the game [and] was a huge inspiration," Lieberman said.
Meyer spent most of his freshman year on the bench, but over time, he slowly began to develop his game in practice and during the offseason. For example, he has participated in the Olympic development program, which has given him the opportunity to play against top tier competition. Additionally, he swam for the Titans for four years.
"You notice a big difference in the water: stronger movements, better balance and it's easier to play the game [after going through the Olympic development program]," Meyer said.
Just this past summer, Meyer took part in an adult water polo league called the Masters. In it, he once again was given the chance to compete against players much bigger than him. Not surprisingly, Meyer has seen a big improvement in his game as a result of participating in the adult league.
Now that his older brother has graduated, Meyer knows that this season won't be without its difficulties.
"I felt [I was] missing him right away," Meyer explained. "But you've got to move on."
Meyer's transition is expected to be a quick one, as Lieberman has expectations from him now that he is a senior and team captain.
"Being a senior, I expect him to be one of the team leaders in and out of the water, and I think he has embraced that role," Lieberman said.
Throughout his journey through the ranks of men's water polo, Meyer believes he has gained a great deal of knowledge and skill.
"I've learned a whole new meaning for hard work and determination," Meyer said. "I learned a lot about myself, like if I have the determination I can work hard and get to where I want to be."
While personal reflection is one thing, Meyer also has the praises of his coach who has seen his growth from day one.
"Both swimming-and-water-polo wise [he has taken] just huge strides," Lieberman said. "He really has just embraced the game."
While he received little playing time freshman year, Meyer got a rare great opportunity to show his potential early in his career.
It was the first game of his freshman year, and Meyer found himself sitting on the bench for the start of the game. To his surprise, his name was called and he was put in. He knew that he had little time to show off his talents, so he had to make the most out of the little opportunities he got.
His moment came on a fastbreak play. After a stop on defense, Meyer found himself and his teammate who had the ball, J.J Connor, on a fastbreak play down the pool. As Connor swam down one end of the pool, Meyer swam down the other, matching his teammate's speed. As they got towards the net, Connor swung the ball to Meyer who completed the fast break with a goal. Later, Meyer found out that his goal was the first scored by a freshman all year.
In a sort of foreshadowing to the rest of his high school career, Meyer's ability was starting to poke its head out, even then. If anything, Meyer's story shows how much a person can accomplish by just putting in the extra hours.
"I worked really hard and that's how I got where I am today," Meyer said.