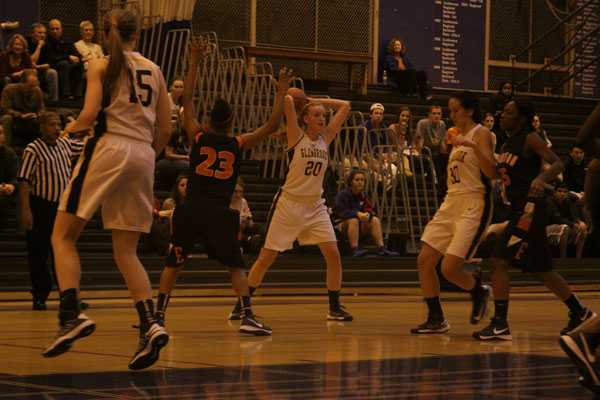 With a final regular season record of 22-6 and having placed third in conference, the women's basketball team ended its season with a loss to Resurrection in the Regional finals on Feb. 15.
According to senior co-captain Lindsey Oldshue, this was a game they expected to win.
"A lot of us expected a win out of [the last game], but I think we just came out of it a little slow and just couldn't get our momentum going," Oldshue said. "They were a good team of course, and they shot the ball really well. I think we just didn't make those easy shots that we should've made."
The past three years the team has won a regional championship, and this year they had goals to  go much farther in the playoffs, which made this loss especially difficult, according to Oldshue.
"Towards the end, the goal was to ultimately get down [to] State just like any other team," Oldshue said. "I guess that's why it was a little disappointing to get out so early."
Despite this loss, head coach Steve Weissenstein believes they had a really strong season overall.
"We just wanted to get better every day, and we played one of the toughest schedules in the state," Weissenstein said. "Our girls did a fantastic job all year. We had victories over teams that are in the top 10."
According to senior co-captain Molly McDonagh, a large part of the Lady Titan's success last season was related to team chemistry and communication.
"We're all friends off the court, so I think on the court we're really able to communicate with each other well," McDonagh said.
Weissenstein echoed the great team chemistry and its role in their success.
"[They are] girls that really wanted to get better and like each other, who played together well and just competed at the highest level," Weissenstein said. "There was no selfishness, everyone just wanted to win, and it didn't matter who got points, as long as we won, that's what was important."
Besides team chemistry, the team's strengths also lied in its defense, according to Weissenstein.
"Defensively, we're really good," Weissenstein said. "Teams have had a really hard time scoring on us. We don't usually play zone and we played zone, this year. You could just kind of see us getting better and better and more comfortable with it as the year went on."
According to Oldshue, winning the championship game of the holiday tournament against Wheaton North was the focal point of their season.
"We all had probably our best game," Oldshue said. "We just really pulled it together, played our best game as a team, and that was probably my favorite moment [of the season]."
McDonagh believes another key game in their season was against Hersey, but for a different reason.
"We just should've beaten them, and we came out so weak," McDonagh said. "Letting them come here and beat us was one of our lowest points, but I think we really excelled after that. We used that kind of as motivation."
Leading the team this season were McDonagh and Oldshue, as well as seniors Teigan Flaws, Katie Jennings, Katie Dwyer, Brooke Thomas and Annie Engels.
According to Oldshue, all of the key players carried the team this year, and she hopes this will continue next season.
"It's going to be a big change next year," Oldshue said. "It's probably going to be a lot younger of a team, but I think we did set a pretty good example for the incoming class, and I hope maybe us losing so early will inspire them to work harder and do a lot better next year."