Gymnastics falters following key injury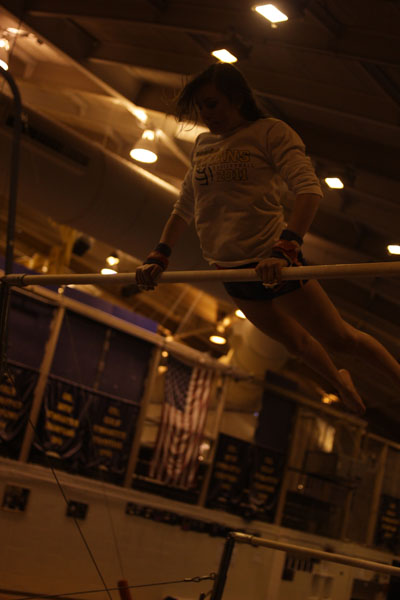 Hang on for a minute...we're trying to find some more stories you might like.
With a 2-3 dual meet record and a second place finish at the Evanston Invite this season, South's women's gymnastics team has been up to par, according to junior Amanda Browder, who currently competes in all four events for the Titans.
"[The] season has been going pretty well," Browder said. "Last year we had our best gymnasts [and now] it's just [us]. We definitely improved this year [more than] last year so we're pretty proud about that."
The Titans have had recent success at invites according to Gale, most notably a second place finish at Vernon Hills, where they finished with a 122 team score. Despite encouraging results, the team has been set back with the loss of Samantha Kopley, one of South's three top all-around gymnasts, to an ACL injury.
"[With Kopley's] injury we dropped 5-6 points," Coach Steve Gale said. "Without her we are not going to be as competitive."
Also speaking to the impact of the injury, junior Jamie Vear says that its consequences has not yet set in, but in the future the, loss will hurt the team's depth and reliance in dual meets and invites.
"Its effect [is large]," Vear said. "We only have four people on varsity. [Judges] only count the top four scores, [and] without an extra person, when someone makes a mistake it reflects on the whole team."
Despite their losses, the team looks to reaffirm their commitment to finishing well towards the end of the season. Gale indicated that although expectations haven't changed, the realities are setting in.
"It has been a good season," Gale said. "I'm proud of what [the girls] have been doing. We are aiming toward next year, although we haven't reached all of our goals. This season [is] a stepping stone and a building block to future success."
Going into Conference, Browder says the Titans will push forward and do their best given the situation they have been dealt despite the team's hardships.
"Our goal is to do well in Conference, [then] make it to Sectionals and from there to make it to State," Browder said. "For now, the goal is to go to Sectionals."
Kopley's injury, according to Gale, makes State a challenge. However, Gale believes that rather than dwelling on the negative, the injury can be a building block for success in the future, especially since there are no seniors on the varsity squad this season.
"One of our goals is a more competitive season for the girls [next year]," Gale said.
However, with state hopefuls sophomore Kaci Castino and Browder in the mix, the team looks at sending someone down to State as an individual qualifier, according to Gale.
"[Castino and Browder] are going to have to do well on specific pieces of equipment," Gale said. "Going to State is not realistic as a team."
Assistant coach Eric Campbell agrees with Gale, saying that Castino's and Browder's chances depend on a few improvements.
"[Castino's] bars routine is pretty good," Campbell said. "If she hits it and throws on a few new skills, she could have a good chance at making it to State and placing at Conference."
Browder knows that improvements are the only way to make State attainable. She has set her sights on bettering her all-around routine, as well as making strides in all areas to try to be as competitive as possible.
"I am currently trying to improve my vault, bars and beam," Browder said. "I'm just trying to stay on the beam. On the floor, I am trying to improve my form."
Campbell also added that if both girls do well, it would not be out of the question to see them both at the State meet.
"[Browder] is our second up on all-around," Campbell said. "If [they] hit their routines we will do really well."
Castino reflected the coaches' positive sentiments and added that although injuries hurt the total product, the season has progressed adequately.
With the roller coaster season coming to a close, both Gale and Campbell stressed the positives, with Gale adding that the season is a process toward ultimate self-betterment. Gale thinks that next year can be even better.
"We are going to finish the season strong and come back strong next year," Gale said.