Students fundraise, coordinate 15th annual Burger Day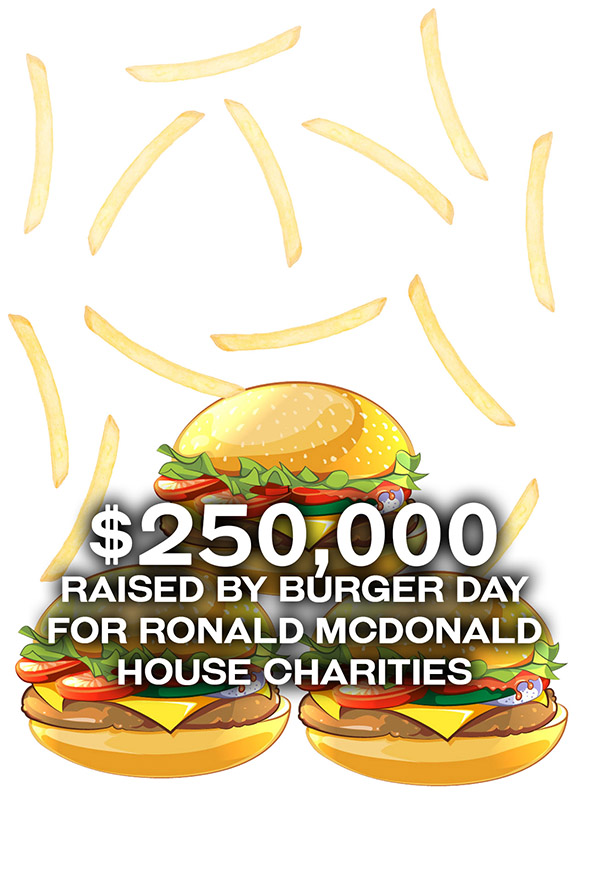 Katherine Schurer, staff reporter
April 20, 2018
Each year, GBS and GBN host a fundraiser called Burger Day, a fundraiser to raise money for the Ronald McDonald Foundation, according to junior Ellie Eisenberg.
Initially, the event wasn't charitable, Gracie Hambourger, president of Burger Day Board, says. 
"It started more than ten years [ago] as a prank to test the meaning of fast food," Hambourger said. "Some high school boys tried to buy [all the food at McDonald's]. After a few years of this joke, the owner approached the boys and presented the idea of doing it for charity." 
On April 22, the McDonald's in Plaza del Prado opens for Glenbrook  students to participate in a burger eating contest.
"There will be one dollar burgers for people who come along," Eisenberg said. "[Then there is] an eating contest between North and South students."
There is a board consisting of GBS and GBN students which focuses on organizing the event and fundraising all year, Hambourger says.
"We are a combined team with Glenbrook North," Hambourger said. "There is a Burger Day Team that plans the event and raises money throughout in the year. The team usually consists of five students from each school."
According to Eisenberg, proceeds go to the Ronald McDonald Foundation, an organization that focuses on supplying houses for families. According to Hambourger, since the fundraiser is entirely student-run, all the donations made go straight to the foundation.
"We are able to donate 100% of [our] donations directly to the [ Ronald McDonald House]," Hambourger said. "Since the start of Burger Day, we have raised over $250,000."