Stack's passion for engineering goes beyond classroom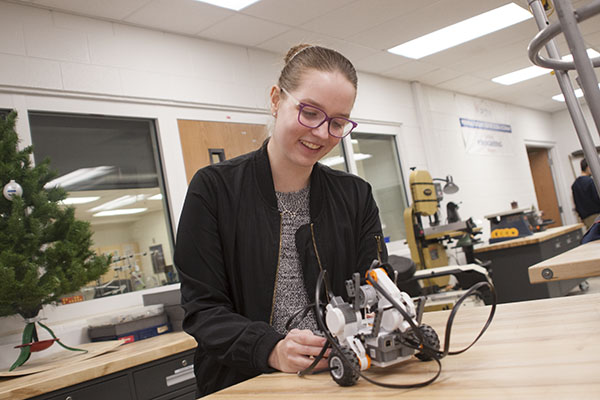 Sophomore Kate Stack has explored the engineering field through various means such as South's Society of Women Engineers (SWE), Glenview's Got STEAM, and Epi-Spot. Earlier this year, Stack received a $10,000 grant for engineering from  the tech company Infosys.
According to Stack, she received the grant for her Epi-Spot project. Epi-Spot is a teddy bear that utilizes a mini computer to help kids and adults safely and easily learn the steps of administering epinephrine interactively. Her idea stemmed from personal experience in dealing with allergies at a young age.
"Since the age of three, I had severe food allergies to peanuts and tree nuts," Stack said. "Looking back, I wanted to solve a problem within that area. I remembered that I had a difficult time learning how to use an EpiPen."
Stack explains that the greatest challenge for this project was learning how to build and improve the device on her own based on what she learned.
"For a lot of things I incorporated in my project I was able to figure out through online tutorials, but it also involved changing different things from those tutorials and learning new things on the fly," Stack said. "While it was really rewarding to see the end result, it was definitely challenging as I was a beginner to the world of coding."
Stack is also involved in a handful of engineering clubs at South. One such club is SWE. Michael Sinde, SWE sponsor and Stack's freshman engineering teacher, explains that SWE began as an effort to encourage females to join engineering.
"We started SWE about four years ago as we started our engineering program called PLTW," Sinde said. "We looked at some research … and we noticed that nationally, there is a shortage of females in engineering, and that held true when we started the program here. We didn't have the high number of percentage of female students that we wanted."
According to Kathryn Woo, president of SWE, the club provides a space for girls interested in STEM fields to feel welcomed in the world of engineering and build skills through the Makerspace and professional engineering software.
"We found that General Engineering Club was predominantly male, so we wanted to provide girls basic freedom to do what they'd like to do without feeling too intimidated by the fact that they're the only female in the room," Woo said.
At SWE, Stack started a project called Glenview's Got STEAM along with SWE members Ariya Patel, Caleigh Schmidt, Ella Prillaman, Jenna Kim, and Savera Zulfiqar. According to Stack, this is a partnership with the Glenview Public Library and SWE to initiate a middle school outreach program for girls interested in engineering and other STEAM fields.
"[Stack] met with some students in the summer and they titled it Glenview's Got STEAM," Sinde said. "STEAM runs a workshop once a month, one month at the Glenview Library, one month at GBS to get [5th through 8th grade] students more involved, specifically female students, to let them know that they can do this."
According to Stack, she hopes to continue to open people up to the world of science with the Epi-Spot  device and Glenview's Got STEAM and hopes to pursue engineering in the future.
"I'm hoping to create a series of tutorials to teach others how to create their own Epi-Spot bear," Stack said. "In the future, I also hope to continue … Glenview's Got STEAM  in order to encourage middle school girls to get involved in engineering and create their own projects."
Despite the obstacles, Stack is glad that her project serves to help others learn how to safely inject an EpiPen for allergies.
"I'm really proud of how I've been able to spread and show people how to use an EpiPen because it can definitely help save a life," Stack said. "Because allergic reactions can happen  almost every three minutes, it's important to know the steps. Some [people] didn't even know what an EpiPen was until my project."
Stack proceeded to give the money she was awarded with to the Glenview Public Library to buy materials and start maker programs, which provide kids with hands on engineering experience. Sinde is most impressed by Stack's desire to give back to the community.
"The biggest thing about Kate, if I think as a whole, is the ability she wants to give back," Sinde said. "She feels that she's been very fortunate and wants to inspire others. So she may  be able to do some different things [through getting a grant], teaching younger students and so on."