Key Club to host leadership conference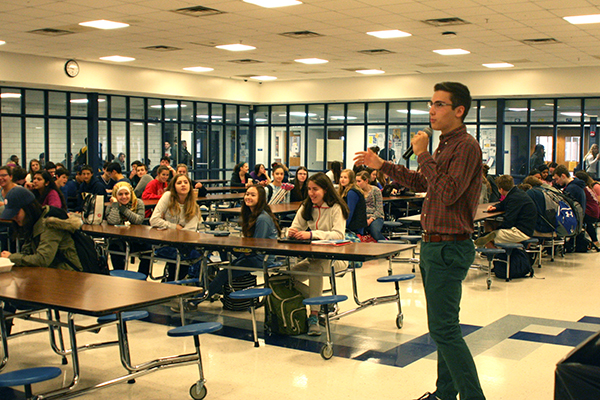 Key Club is inviting service clubs from the Chicagoland area to a summit that will be hosted at GBS on April 22.
Josh Koo, Key Club sponsor, explained the event was inspired by a conference that he and Key Club board members attended. However, Koo said, the conference devolved into corporate advertisements and left something to be desired.
"Some of our leaders said, 'Hey, maybe we could do this but with [more emphasis] on service,'" Koo said. "[The conference is] more about starting a grassroots movement and networking with other schools."
Koo says that any student is allowed to attend this event at no cost. To sign up, students will go through a process of selecting a variety of workshops to participate in, similar to the process previously used for GBS Connects, according to Lori Steffel, Key Club committee leader.
"They all start off with a very thought-provoking activity […] related to that specific workshop," Steffel said. "For example, Key Club's Hunger and Poverty Committee is starting their workshop with a 'game of life' activity where everyone will be given […] an income, living style, family, etc. in order to simulate the disparity faced in a community."
After the activity, Steffel said, the leaders will move into a group discussion about different types of service and how to start them. Participants will then share their ideas with each other.
"We've gone through many stages of brainstorming and revision to get to the place we are now," Steffel said.
According to Koo, along with all GBS students, several dozen schools have been invited to the summit, with nearly 200 students from other schools predicted to attend. The goal of the event is to start a discussion about ways to serve communities.
"We had this conversation and asked, 'What good [are our ideas] if we're the only ones doing them?'" Koo said. "We want to be totally open sourced and share our templates, […] resources [and] our plans […] so [they] can go back […] and customize it for their community."
Key Club members not on the board will help set up the event and are invited to join the workshops. Steffel hopes that younger members will be inspired to step into leadership positions after the summit.
"It'll be a great way to make sure that the heart of Key Club is preserved," Steffel said. "Hopefully, they will be instilled in the members, [and] some of [them] will go on to become Key Club leaders. It really comes full circle."
Ultimately the goal is to go beyond Key Club and help create a better service club in every school, Koo says.
"When we invite people, it's [so] they participate," Koo said. "Learn, come share ideas, share questions. Sparking conversations to inspire a grassroots movements for the next generation is the goal."