State mandates Civics education, increases graduation requirements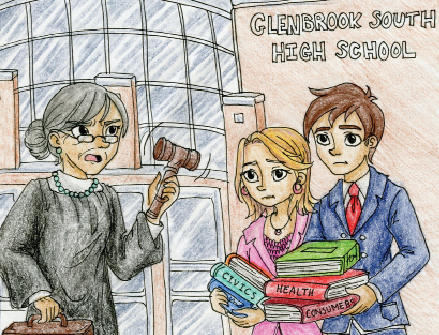 Hang on for a minute...we're trying to find some more stories you might like.
Illinois high school students will be required to take a semester of a class that includes a focus on civics in order to graduate, according to a bill signed by Governor Bruce Rauner on Aug. 21; the official timing of the implementation of the requirement is yet to be determined.
According to Laura Fine, the state representative for Illinois' 17th District, which includes Glenview, the hope behind the bill is that students will gain increased ability and motivation to participate in government and democracy. Fine, who was a co-sponsor of the bill and who is also a GBS graduate, says that education about civics, which is the study of rights and duties of citizenship, can inform students about opportunities to participate in government, even before they are old enough to vote.
"I think through civics education, young people will realize that they do matter," Fine said. "[Students] want to be able to have [their] own voice, and this is what [civics] is going to do for [them]."
According to Fine, low voter turnout in the past among younger people has been a result of misunderstanding among American youth who think their votes don't carry weight.
"What we want to create with this civics curriculum is an educated student body that is now able to vote and will make an educated decision when they do go to the voting booth," Fine said.
The newly required class, according to the bill, must include four components: the study of government, a service learning component, democratic simulations, and discussions about controversial issues. According to Fine, the Robert R. McCormick Foundation is contributing $1 million to help with professional development for teachers statewide. Terry Jozwik, Social Studies Department instructional supervisor, sees value in these specific components.
"We are asked by the state to create a service learning component—getting students out into the real world, interacting in their community in some way—I think that will be very, very useful," Jozwik said. "I also think setting up simulations like mock congresses and mock debates is not something that we [up until now] have [had] time to do in a lot of our regular classes in a substantive way."
The bill, as originally passed and signed, would put the requirement into effect on Jan. 1, 2016, which would mean that all current students would have to take the class in order to graduate, including this year's seniors. However, House Bill 800 will be heard by the senate on Oct. 6, which, if passed, will delay the implementation of the requirement until the graduating class of 2020.
Cara Wiley, the principal consultant for the state board of education, said that she could not comment about pending legislation, but she knows that members of "the McCormick Foundation and the Education Committee are both confident that it will pass."
The Social Studies Department will plan how to best incorporate these requirements either into existing courses or as a stand-alone course. The creation of a stand-alone course raises concerns about the potential impact on electives, both in the Social Studies Department and throughout GBS, while the possibility of incorporating civics into existing courses raises questions about the possible effect on the content of those courses.
"The challenge for us is [that] we do offer a number of wonderful electives in Social Studies, and, [at the first department meeting we've had about this topic], we were trying to figure out how not to diminish those electives that are very popular with students," Jozwik said.
According to Jozwik, the process of determining how South will meet the new mandate will require multiple meetings for the Social Studies Department, as well as more information from the State Board of Education in coming weeks. Today, Oct. 2, Jozwik is attending a meeting of Social Studies Department chairs from the surrounding area, along with a representative from state government in order to learn more about both the requirements from the state and the approaches that other schools might be taking. According to Wiley, schools do have the ability to decide how the requirements best fit into their existing courses.
"If schools are already offering U.S. History and [AP] Government, civics can be embedded within that," Wiley said. "However, [the bill also gives the option] of creating a separate civics course."
South Principal Lauren Fagel says that she believes in the importance of civics education and is excited about the possibilities, but she is also concerned about what students may have to give up in order to fill the requirement.
"If it's a stand-alone course, that changes things for kids in terms of [the fact that students] only have so much time in a day," Fagel said. "[Students are] choosing courses, and now this is going to be a separate requirement that [they are] going to have to take along the lines of health and consumer."
In an unscientific Oracle-conducted survey of 161 South students, 42 percent of respondents said that they are in favor of the new requirement, while 37 percent said that they had to learn more before expressing an opinion. Many survey respondents also expressed concerns about the potential effect on the scheduling of electives.
"I think the class is useful and worthwhile, but [having] so many requirements makes it hard for students to take the classes they want," junior Cindy Yang said. "I've already struggled with the current P.E., Consumer, Health and Arts requirements, and I don't need another one."
On the contrary, junior Nina Tojo is one of the students who sees the potential value in civics education.
"I think it's really important for people to learn how to become educated, active citizens," Tojo said. "That is the only way, in my opinion, for a democracy to have a successful government that reaches its full potential."
Given recent political history in Illinois, Jozwik hopes that the new requirements can help reshape students' perspective on government.
"All too often, kids are turned off to government, because a number of politicians have gotten themselves in trouble," Jozwik said. "It gets a black eye, and people then don't want to be interested. I think we need to change that attitude amongst young people, not only at Glenbrook South but throughout the state."
The legislation itself had largely bipartisan support, according to Fine, who said that it had to undergo many alterations in order to satisfy all interested parties. Limited opposition to the bill did stem from the fact that it might limit students' electives, according to Fine.
*The Journalistic Writing class contributed to this report.