Wegley named Superintendent of District 30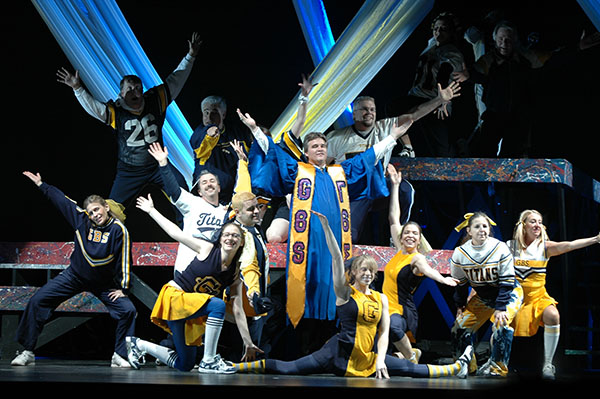 Rachel Chmielinski (co-editor in chief), Kali Croke (co-news editor), Georgia Arvanitis (co-news editor)
February 6, 2015
South principal Dr. Brian Wegley accepted a position to become superintendent of District 30 beginning in the 2015-2016 school year, ending his 20 year employment at GBS. He is one amongst several other principals transferring or retiring in the area.
District 30 is a combined Northbrook/Glenview district that includes Willowbrook, Wescott and Maple School. Wegley will be taking the place of Superintendent Dr. Edward Tivador who has been in the position since 2007.
"Frankly, it's been a dream job," Tivador said to The Chicago Tribune. "It's bittersweet to leave."
According to Wegley, becoming a superintendent is something that had always been on his mind, and once the opportunity presented itself, he decided to take it. The potential to enter a district affiliated with South made the District 30 position more appealing as Wegley still hoped to maintain ties with the high school in some way.
"If I'm ever going to [leave South, District 30] is a terrific place to [be], where it's still connected to the place I love," Wegley said.
Wegley entered South in 1995 as a physics teacher and in 2005 became the fourth principal since the school's inception. Although South has been a large part of his career, he also has ties to District 30 because of his son's attendance at Maple and due to the incoming freshmen that come from the middle school.
Despite the excitement of taking on a new position, Wegley recognizes the difficulties in leaving a school like South. According to Wegley, South has been a huge part of his life and he has enjoyed the many years spent as a part of the administration.
"It's one of those things that is mixed because moving on is difficult because I've truly invested every part of myself at South," Wegley said. "That comes with some pain to leave and to know that I won't be in this office in this role for the next several years."
According to Wegley, the new superintendent position will require coordination of three different buildings to create one district administrative team.
However, his principalship has taught him many valuable lessons that will help him in his new job.
"I think that the key thing I have learned working with people here is that it's all about people," Wegley said. "It's all about relationships and creating trust and truly doing what's right for students. You do that in a very collaborative way and a very clear way. […] Knowing where those students will end up and where they're going and what they need I think will be helpful too."
Wegley has now begun to engage with Tivador to better understand the position he is inheriting. He is eager to become a part of a new environment that still allows him to be a part of South, due to the fact that District 30 feeds into District 225.
"[I have] excitement for a whole new set of learning and figuring out how to support another very good place that is connected to this place,"  Wegley said.
As the selection process for South's new principal continues, Wegley has faith in the process and is ready to help  make the transition as smooth as possible.
"When that person is identified, I will do everything in my power to make sure that they are supported and that we don't miss a beat as a school," Wegley said. "I'm really confident that will happen. There are some great people who are interested in the position. It's a matter of letting the process run and finding out who the best principal will be."
According to Dr. Mike Riggle, District 225 superintendent, the candidates for the principal position at GBN also see GBS as a great opportunity.
"Dr. Wegley's departure from GBS came as a little bit of a surprise, but [with] the timeliness of it, we were able to quickly advertise the position," Riggle said. "They went back to the pool and said, 'You knew that GBN was open, we now have an opening at GBS. Are you also willing to interview for that position?' and the people said, 'Yeah, it's a great school.'"
Aside from Wegley, many other principals and administrators are retiring or relocating in the area. Others retiring or relocating include Principal Dr. Paul Pryma of Glenbrook North, Principal Brad Swanson of Highland Park, Principal Carol Burlinski of Buffalo Grove, Principal Audris Griffith of Deerfield High School and George Fornero, superintendent of Highland Park District 113.
With two principals from District 225 set to leave, according to Riggle, the circumstances are a unique challenge.
"We're trying to make the best we can of a very challenging situation, because I don't think that the district has ever had to replace both principals in the same year," Riggle said. "We're going to speed GBS's process up a little bit and slow GBN's process down a little bit. We're going to try and take advantage of this strong pool of candidates so that we are getting the best possible people for both [jobs]."
Because the process for selecting a new principal at GBN is already in place, a similar framework was implemented for selection at South.
"We can do the same basic structural work in building a profile by having focus groups and having online surveys of the students, the staff and the parents," Riggle said. "We can do the same types of things, building and preparing for interviews, that we were doing […] at GBN."
The GBS website states that in early winter the district organized a selection of candidates and will hopefully have a new principal by the end of February. According to Riggle, the next step is to identify top candidates who will qualify for interviews and will then continue the processes for each school separately.
"A lot of information will go out, and all we want to do is to urge the students, the staff, and any parents in the community to actively participate, because we feel that that's very essential to us being able to identify the next leader of the Titans to do a good job," Riggle said.
*John Schurer contributed to this report