Google executive visits South, talks energy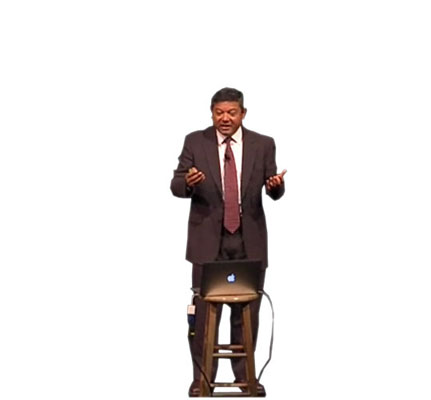 Hang on for a minute...we're trying to find some more stories you might like.
Dr. Arunava Majumdar, vice president of Google's energy initiatives, visited South to present to students on Nov. 21.
Majumdar presented on energy policy, sustainable energy possibilities and what the younger generation is capable of.
President Barack Obama nominated him for the Under Secretary of Energy, and last year Majumdar joined the Google community to advise the company on energy strategy.
Junior Avi Dravid, Majumdar's family friend, heard that Majumdar was visiting Northwestern and proposed that he visit South as well.
After Majumdar agreed, Dravid approached South Principal Dr. Brian Wegley. Wegley took the initiative to create a committee of South faculty members to decide the content of the presentation, which included Jeff Rylander, instructional supervisor of the Science Department.
"The goal was to provide our students with a challenge to be innovators in the ever changing and highly technical world," Rylander said.
Wegley said Majumdar was "blown away" by students' questions and attentive behavior.
"Dr. Majumdar shared with me how impressed he was with our student body," Wegley said. "I truly enjoyed hearing Dr. Majumdar's reflections on the quality of our students."
Majumdar's presentation emphasized student cooperation to solve the "grand challenge" of energy sustainability,  according to Dravid.
"Some of you may decide to go into business," Majumdar said during his presentation. "You may go to Wall Street; we need you all."
Dravid agrees with the necessity of involving everybody in this initiative and expressed hope.
"It's going to take efforts from all sorts of people to facilitate the development of cleaner and more sustainable sources of energy," Dravid said. "This generation will have to step up, but we can work together to solve the challenge. "
-quote from rylander and/or wegley-
Dravid said he received nothing but positive feedback.
-something from majumdar…if he gets back to me. If not, I have a lot of avi quotes-
Majumdar's presentation not only focused on developing energy innovations, but the impact the younger generation, such as South students, could have on future energy sustainability.
"The key point of his talk was that energy is the 'grand challenge' for our generation," Dravid said. "It's going to take efforts from all sorts of people to facilitate the development of cleaner and more sustainable sources of energy. This generation will have to step up, but we can work together to solve the challenge. "