Titan Tots Provides enriching learning environment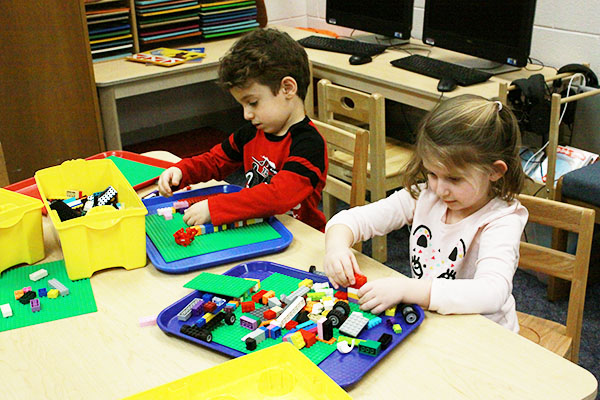 Esther Lim, asst. features editor
February 14, 2020
Welcome to Titan Tots: a place of care-free play, juice boxes, imagination, laughter, snacks and Hot Wheels™ right here at South.
Junior Bella Trapp works alongside Preschool Teacher Michelle Goodrich. Titan Tots is a laboratory preschool, so South students are able to use the preschool to gain training for future careers in education. Goodrich explained that she hopes to create an environment where the toddlers start their path to a lifetime of learning through a play-based curriculum, and high school students gain teaching experience.
"Titan Tots Preschool is a unique learning environment for our families," Goodrich said. "Since we are a laboratory preschool, we have groups of high school students that come into the preschool to assist. In addition to myself, this gives our preschoolers almost a one-to-one ratio. No other preschool in the area offers that [ratio]."   
Trapp mentioned that she loves working with children and hopes to become an elementary school teacher. The Titan Tots classroom is a place where she knows she will feel welcomed and is excited about the relationships she will build, Trapp explains.
"My favorite part is just playing with them or talking with them because they say so many funny things," Trapp said. "It's the greatest [experience], and I love teaching them, too. When it's just me and the kids, all I do is talk with them."
Kimberly Kiraly, child development teacher, works alongside Goodrich to run the Titan Tots program, but works centrally with high school students enrolled in Child Development. She focuses on providing students with a genuine, hands-on experience with the preschoolers by creating lesson plans and joining them during play time. Kiraly shared that beyond the academic experience, the Titan Tots classroom can act as a safe space for some Child Development South students.
"A lot of students will come back to the preschool when they might be having challenges in other parts of their day," Kiraly said. "That breath of fresh air when a preschool student is going to say something silly or goofy is really refreshing and in a world where things can be really stressful. It's nice to have that space [where] you can check out and go into that room knowing that your focus needs to be on them."
In addition to its role as a safe space, Titan Tots has helped  foster students'  career aspirations. For senior Katrina Donatello, the Titan Tots classroom has given her first-hand experiences that support her career goals of being a teacher.
"Titan Tots showed me what it's like to be in charge of a class and be a teacher," Donatello said. "We would have to make lesson plans and that was a really interesting aspect. Finding games, crafts, and activities taught me time-management and how different everyone's teaching style is. [Even] though there's different dynamics, [all the lessons] work really well."
Unlike Donatello, senior Martin Browder joined the Child Development program unaware of what to expect from the Titan Tots classroom. However, he soon found himself enjoying the special bonds he made with the kids.
"I think it just gives us a pat on the back, because you can see throughout the year how much they've learned," Browder said. "I'm really close with one kid, and he didn't know how to write anything at the beginning of the year, but now he's getting to write his name so it's nice to see the children grow and you grow a bond with them."
As a male student in a predominantly female elective, Browder had initial doubts, but those feelings soon dissolved as he came to gain a new perspective.
"It helps me not think of how people would perceive [me being a part of Child Development] but how I perceive it, and how happy I am to be able to be a part of such a tiny thing at South." Browder said. "[It] makes a difference in the long run to the parents and the [high school students] teaching them."