Yoga inspires positivity, provides mindfulness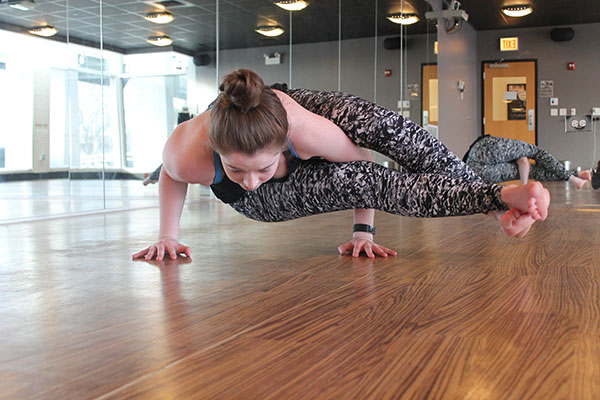 Ashley Desserich, asst. features editor
February 9, 2018
Hang on for a minute...we're trying to find some more stories you might like.
After a stressful day of school, senior Alexandra Anderson walks into a yoga class, leaving her to-do list behind. She lays out her mat at the front of the candle-lit room and begins teaching the class a yoga pose. Her stress begins to drift away as she becomes completely focused on her practice.
Anderson, a certified yoga instructor, says she realized through her teacher training that she wanted to continue practicing yoga for the rest of her life. She also went to countless yoga classes, which confirmed her passion for yoga and made her want to share it with others. Anderson says one specific class, with her favorite yoga instructor, inspired her the most.
"[My teacher's] energy just made me very excited," Anderson said. "That class made me want to teach [and] it was a defining moment in my journey so far."
According to Anderson, yoga allows her relieve stress that builds up in her during the day. She says that although mental health is emphasized, most people don't actually set aside time to reflect on themselves.
"[Yoga] has helped me make time for myself [and it] helps me to be a more positive person. I try to [look] more on the bright side of things," Anderson said.
Similar to Anderson, senior Chloe McKerr has seen a huge difference in her outlook on life since she started practicing yoga regularly. She says she has learned a lot about herself.
"[Yoga] helps me to keep a peace of mind," McKerr said. "It's carried throughout my day, not just the physical part of [yoga], but more of the [mental] and spiritual part of it. It really affects my life and helps me to manage my day and set goals for myself."
Mckerr's passion for yoga and the lifestyle that is associated with it led her to create Club Younity, a club that is centered around wellness. The club was started by Mckerr Sophie Hensley, class of 2017. Currently, Mckerr leads the club along with Anderson, who helps out by teaching some of the yoga classes offered through the club.
"It's a great club," Mckerr said. "It's focused on spiritual wellness [and] we do a lot of yoga and meditation. Some days we will have workshops where people will come in and talk about new topics like chakras, kundalini or ayurvedic healing."
McKerr began taking yoga seriously on a backpacking trip she took this past summer to Alaska. Her leader was a yoga instructor, who Mckerr was immensely inspired by. According to Mckerr, her experience was one she will never forget.
"We were doing yoga in the mountains [and] it was the most amazing experience ever," Mckerr said.
Spanish teacher Rachael Rothrauff says she practices yoga around the world. Rothrauff is a certified yoga instructor and teaches multiple classes during the week at a local studio, but says being able to practice yoga in other countries is definitely a unique and rewarding way to see cultures around the world.
"Wherever I travel, I will go to a local yoga studio and I will do a class there," Rothrauff said. "It's not something that tourists typically do [and] it's cool to see the different manifestations of yoga in different parts of the world."