South freshmen adjust to high school workload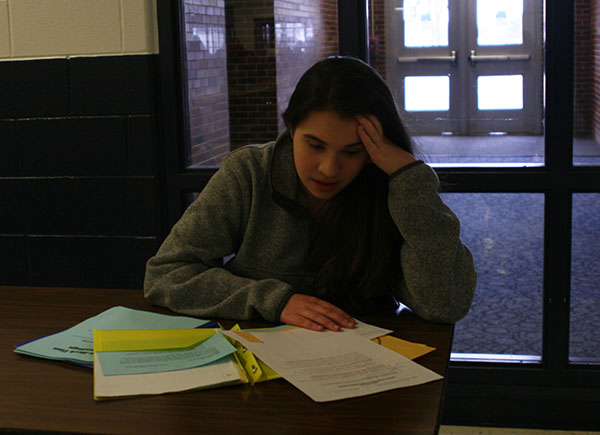 Aug. 22, 2016 initiated the start of South's class of 2020's adventure in high school. Whether the freshmen were ready or not, their journey had begun.
Freshman Adair McMahon describes feeling both nervous and anxious the morning before the first day of school.
"I was just excited for what high school would bring, like new experiences," McMahon said. "I'm loving it so far."
According to McMahon, she felt lucky to be in advanced classes at her old school, Springman Middle School, because her teachers there really challenged her. McMahon believed this led her to be more prepared for the work she has received in high school.
"Some of the things [that teachers did to prepare us] would be giving us quite a bit of work […] or teaching us some note taking skills," McMahon said.
According to a non-scientific Oracle conducted survey, 67 out of 100 freshmen said they thought they entered high school unprepared for the amount of work they would receive. According to Principal Lauren Fagel, freshman are under a lot more pressure in high school to complete their work.
"I think that kids feel like 'this is high school now', the stakes are higher and it counts," Fagel said.
According to Fagel, once a student starts to lower their gpa, it's hard for them to get back up and recover from that. Fagel believes that a student who is struggling can look to their Peer Group, run by Matt Topham and Joy Cooper, to get help and advice.
Cooper said, "When you come to a school that has 3,000 people, Peer Group is effective because we break it down."
In Peer Group, according to Cooper, freshmen are able to reach out to their leaders if they are ever struggling with the work they receive or anything else that might be giving them issues.
"Students reach out to their senior [leaders] asking questions like, 'What do I do if…,'" Cooper said.  
Freshmen students who are struggling with their homework, classwork, or anything else that is academic, can go to the Titan Learning Center or TLC, according to Fagel. According to freshman Dejah Carr, she sought the help of the TLC tutors for help on an American Sign Language assignment.
"[I was helped by] a student tutor and she just told me to practice a lot," Carr said.
Cooper believes that the TLC is not only beneficial for freshmen, but for the entirety of South's student body as it is easy and convenient for students.
"A benefit [of the TLC] is that we are here during the school day," Cooper said. "You don't have to go anywhere else for tutoring, and it's free."
According to the same number of surveyed freshmen, 85 out of 100 freshmen say that they receive more homework in high school than in 8th grade. According to Fagel, this could be a reason to why some students are struggling with their workload, like McMahon.
"There's been multiple times this year, and it kind of goes in cycles, [where] there would be a week where I am really stressed because there's so much homework and I'm really overwhelmed," McMahon said.  
Carr says her middle school, Field Middle School, had done a great job preparing their students for high school.
"[Field] made us read certain texts that we would read in high school, [made] us do a lot of essays, and [would make us take] little finals […] like high schoolers," Carr said.
According to Cooper, students are in a really unique time where they can be bombarded with things that are distracting. Cooper believes freshmen need to develop good study habits so they don't feel overwhelmed with the work load, or ask for help.
"Everyone [at South] believes that asking for help is a strength," Cooper said. "[Asking for help is] a habit actually, it's a good habit," Cooper said.