Q&A with Samuel Jaffe
A brief question and answer with freshman Samuel Jaffe, who has recently been named one of the world's brightest students by Johns Hopkins University.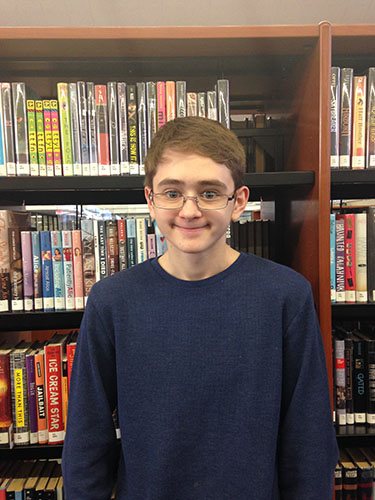 With over 30,000 students competing from 60 plus nations around the world, it's nearly impossible for most people to make themselves stand out. However, for freshman Samuel Jaffe, he proved his intellect after scoring in one of the highest percentiles in John Hopkins University's talent search, sponsored by the Center for Talented Youth. According to Jaffe, he earned the title of,"one of the brightest students in the world" during eighth grade, when he was home schooled.
Q: What made you enter into this contest and were you nervous at all?
Jaffe: Well, my mom decided that it might be a good idea to see if I can take the test to see how [well] I did, because she knows that I am good at spatial stuff. […] I took the test at […] a private testing center. […] It was in Evanston. It's kind of weird going somewhere other than [GBS] to take a test so I was kind of a little nervous, but not really. Once I started [taking the test], their questions weren't super hard for me, [so] I wasn't very nervous.
Q: Do you [like to] tell people that you're one of the smartest kids in the world?
Jaffe: No not really. I'm not a big person to brag about stuff. I mean, it's definitely an interesting conversation topic, but it's not something [where] I [would] come up to someone that I didn't know and I say 'I won this award', but I do talk about it.
Q: Does having this award add any extra pressure on you academically or just in general?
Jaffe: I wouldn't say so. […] I mean, maybe a little bit. [People have] expectations unconsciously. It's not something that would significantly increase the bar or something like that, [so] I'd say the expectations are not a whole lot different. […] Personally, it hasn't changed the way I would go about doing [school work]."
Q: What was it like when you found out you won the award?
Jaffe: I wasn't really expecting it, so I was very surprised. It was definitely exciting, because we got to go fly down to Baltimore for the ceremony, and [the ceremony] was a great experience.  [Having this award is] definitely something that will stay with me for the rest of my life."