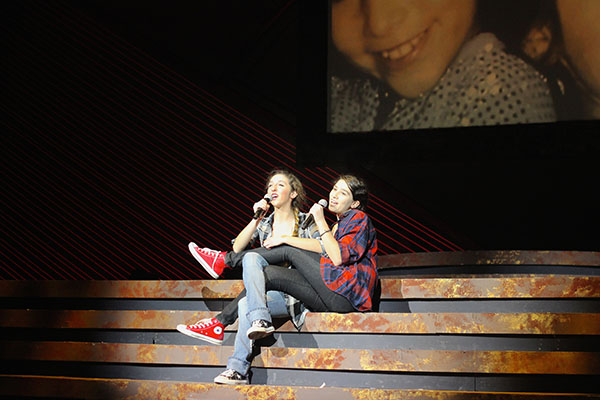 The Oracle takes a look at some of V-Show's standout acts and how they connect to the theme of Synergy.
BALANCE OF LIFE:
Usually a drum, guitar or piano sets the tempo for most Variety Act numbers. However, silence was the first thing sophomores Dani Revello and Jordan Zelvin heard before crescendoing into their a cappella song, "Ripe and Ruin".
The  routine, called Balance of Life, was an emotional a cappella duet that followed the story of Revello's and Zelvin's friendship. According to Zelvin, the performance was an emotional experience because it reminded her of their long-lasting relationship.
"[The routine] made me want to cry every time we [did] it," Zelvin said. "It's just this incredible feeling, you know, that this person has been in my life for so long and will be for forever."
Revello also found this routine to have deep meaning to her. Revello expressed that although she suffers from extreme stage fright, performing with her best friend helped eliminate her fears.
"I'm back stage, and I'm so scared," Revello said. "Once I get on stage, it just kind of goes away because I look across and I see someone that I've seen my entire life. […] She's always been there for me, so when she's up on stage with me, it just makes everything feel better."
Besides stage fright, another challenge both singers faced was the obstacles that come with singing a capella, according to Revello and Zelvin. Revello also believed having to start on opposite sides of the stage, along with clashing two-part harmonies, made finding the correct note even more nerve-racking.
"For me, [what's most challenging was] the fact that we're really exposed," Revello said.
Zelvin said that even with the challenges, she still enjoyed the overall experience. Both singers agreed that their favorite part of the routine was doing it with each other, exemplified through the video montage of their friendship in the background. Zelvin believed that singing together, alongside the video, made the whole experience more emotional for the audience and themselves.
"I can show [our friendship] off to everybody in this act in V-Show," Zelvin said. "I can be proud of this friendship, be proud of my best friend and be up there with Dani."
SYNNER-BEAT
Spotlit and confident, sophomore Joshua Hwang beatboxed to the Drumline's Titan cadence. Participating in his first Variety Show at South, Hwang decided to showcase his talent and expose South to the budding culture of beatboxing.
"When I first saw someone beatbox seriously, it was very cool," Hwang said. "I was really fascinated. I just wanted to show people what I could do, because I practice a lot. I just wanted to show what [beatboxing] was all about."
Initially, Hwang was hesitant on trying out for the V-Show simply because he believed that he wouldn't make it. After showcasing his talent in front of smaller, more familiar audiences, his friends thought that his talent was V-Show material and later convinced him to audition for Synergy.
"A lot of people knew that I beatboxed, because I've shown a lot of people low key," Hwang said. "Many people told me to try out for V-Show last year, which I didn't. My friend kept on pushing me, saying 'C'mon, you gotta do it this year.' He helped me get a spot in auditions."
Getting in the V-Show was an astonishing experience, said Hwang. He went into the auditions with minimal preparation but high hopes.
"I was really, really surprised [that I made it into V-Show], because I improvised," Hwang said. "I didn't really have anything planned out, and I thought I did really bad."
According to Hwang, his act stood out from the rest because it wasn't the typical music act that would normally be seen in the V-Show.
"I feel like my act is very unique because you don't see a beatboxer every day," Hwang said. "Beatboxing is a unique thing because everyone has different mouths, and you discover that everyone doesn't sound the same."
MEDLEY: 
Shredding on his guitar behind his head, senior Jeremy Fine passionately played out rock riffs that he composed himself. With drum beats played by senior Jonathan Thomas, which emphasized the rock-like nature of the act, the dynamic duo excited the crowd with a two-minute head-bobbing melody.
"I came up with a cool idea for an act, and it worked pretty well with the theme," Fine said. "Honestly, nobody at South knows that I'm a guitarist, or, at least, they didn't before V-Show, so I thought it'd be cool to show people that I'm a musician before high school ends. I recruited [Thomas] because he is an amazing drummer, and he really helped me put the whole thing together."
According to Fine, rock music was second nature to him, which was why he was so compelled to try out for a rock-themed act. He hoped to expose South more to the genre of rock music.
"The theme is Synergy, and one thing that I love doing is creating medleys on the guitar," Fine said. "I thought that totally worked with Synergy [by putting songs together in cool ways].'"
For Thomas, however, the music didn't come readily to him. Having listened to a different type of music, it took him a while to adjust to the music that Fine chose for the act.
"This was a huge change for me," Thomas said. "[Fine] rocks out, and I'm usually listening to gangster rap, so it was a cool change of pace."
Prior to auditioning for the V-Show, Fine remembered how his passion for the music calmed his nerves during the audition. Fine said he got lost in the music, and just played what he loved.
"When we started playing, I kind of forgot that it was an audition," Fine said. "I just started playing the music for the music."
 POLICE NAVIDAD:
Police Navidad, a four-person band composed of juniors Claire Demorest, Ethan Larson, Stephen Sholty and senior Jimmy Friedman, covered Love Went Wrong, a song written by South Alum John Splithoff. In hopes of raising awareness of Splithoff and his music, they decided to use the song for V-Show.
"John Splithoff visited [South]," Demorest said. "He currently lives in New York and [performs] a lot, and basically, he's living the dream [of] a lot of kids that go to GBS. Since he went here and he's so successful, I thought his music was V-Show material. […] He created this music that we all love and that represents our student body, so I thought we should do it for V-Show. So I got [Larson, Friedman and Sholty] to do it, and we made it happen."
The group wasn't as close prior to V-Show as they are now, according to Demorest. Prior to their audition, the band bonded through the music.
"I was so nervous," Demorest said. "I was hyperventilating outside [the audition room]. I didn't know Ethan, Jimmy or Stephen very well then, and we've gotten a lot closer since then. But since we didn't know each other very well, we kept our distance. I brought some energy to the song, and I love the song, so I really just went in and had fun."
Unlike most acts that made it into the V-Show, Demorest was able to contact the writer of the music himself and share the news with him.
"I called John Splithoff [as soon as I found out we made it into the V-Show]," Demorest said. "[Marty Sirvatka, Music Department IS,] gave me his phone number if I had any questions about the song, so I called him and told him we made it. But he didn't pick up because it was eight o'clock at night, and I left him a really long message thanking him for his help and inspiration."
The act as a whole brought a different atmosphere to the show that other acts didn't provide, according to Demorest. Though the song had a lively energy to it, the song itself could also be used to relax.
"I think we bring a very energetic vibe [to the V-Show]," Demorest said. "We definitely have a newer kind of sound of music because there's a lot of different genres, but a lot of the music in the show is actually older, and we just bring a very new vibe. We're also increasing awareness of John Splithoff and his music, which is really cool because his music is so great. A lot of the acts are really intense and exciting, and our act is really all saying, 'Just chill out and listen to the music.'"
 SPIDERWEB:
A single spotlight lit junior Komal Gupta as she passionately sang the opening to Haley Reinhart's "Spiderweb". The Female-fronted group, "Sorry Joey", comprised of juniors Michael Jesser, Adam Ley, Stephen Sholty and Gupta, performed an upbeat alternative rock version of the song.
Gupta recalled what was running through her mind as she auditioned for the V-Show. According to Gupta, being surrounded by three of her closest friends calmed her down prior to the audition.
"[Auditioning] was really nerve-racking," Gupta said. "V-Show auditions are pretty huge. But I felt really comfortable because I had my three favorite people — Adam, Michael and Stephen — with me so we just went out there and gave it our all."
Ley relayed his feelings when he found out that the four-piece band made it into the V-Show.
"I was elated to get into the V-Show," Ley said. "I was proud to be a part of the biggest thing at Glenbrook South."
Similarly, Gupta said that the experience of performing was like no other. Because of the professionalism of the V-Show, she believed that performing on stage made her feel like a professional musician.
"The way we do V-Show is amazing and intense," Gupta said. "I feel like I'm performing for some big audience on some really huge professional stage, and it's really cool with all the lighting, the staging and everything."
The connection to the V-Show theme, Synergy, lies within the meaning of the song, according to Gupta.
"The song is about a girl 'catching' a guy in her spiderweb, and I guess that's how it connects to Synergy," Gupta said. "She catches him and that's how they're connecting and how she's making him a part of her."
In the V-Show as a whole, Ley believed that the song contrasted to the other songs included. The slow and fast tempos, as well as loud and soft dynamics, added to the song's uniqueness amidst the other performances.
"It's something a little different in sound," Ley said. "It's more laid back than a lot of the other songs."
PIT BAND:
As the performers entertained the audience on stage, numerous musicians played to back up the performers. Though not on stage, these students tirelessly rehearsed to musically support the faces of the show – the performers on stage.
According to Band Director Greg Wojcik, the pit band was mainly a student-run organization. With minimal advisory, the pit band necessitated Wojcik during rehearsals to work out any problems the student directors ran into as they led the band.
"I work the music because that's what I do," Wojcik said. "I rehearse the music in the band room. Then I play through it, [and] then the kids take over and run [the rehearsal]. They're conducting, and I'm here just to make sure nothing goes wrong."
Although the student directors were dedicated to the work they did and the band itself, Wojcik said he found difficulty in keeping other students on task as they performed in the pit. Not being in front of the audience left room for distractions to the musicians.
"With playing a musical instrument, you can't [be off task]," Wojcik said. "You're distracted with cell phones and all that other stuff, keeping people on task is always a major problem."
According to junior George Tantchev, a drummer in the pit band, he joined because of the welcoming atmosphere it offered. Not only that, but participating also expanded his music repertoire.
"I joined pit band because it's a really great experience," Tantchev said. "You get to play a lot of different kinds of music in different styles. Overall, it's just a fun way to spend time with your friends in band."
Tantchev said that a lot of time outside of school was put into perfecting the pieces for the show. With several songs needed to be rehearsed, the band met daily for two to two and a half hours to play through the larger numbers in the V-Show.
Junior Hyeji Yang believed that, though the pit band cannot be seen, they still played an important role in the show itself. With the variety of instruments that were in the band, they added a diversity to the V-Show that could not be seen but heard.
"I think pit is important to the V-Show because with all the instruments combined, it makes the V-Show more lively," Yang said. "We add more color to the V-Show."
 STAGE CREW:
Lights illuminated a crafted set. Acts come on and off the stage to perform. Though the source of entertainment is the act itself, the lights, set and sound are made possible by the unsung heroes of the V-Show: the stage crew.
According to junior Brian Heneghan, a member of the stage crew, they play their part to make the V-Show enjoyable by simply helping out the acts that are on stage.
"I saw that the V-Show was so much fun to watch," Heneghan said. "I wanted to make it fun for other people to watch, but I can't sing, dance or play any instruments, so I thought I might as well help in another way."
Senior Cody Dietrich believes that a significant amount of time, work and dedication outside of school goes into the building of the set.
"After winter break, we were here usually every day after school until 6:30 during the weekdays [to work on the set]," Dietrich said. "Then on Fridays, we would usually stay until 10 or 11, especially as we got closer to V-Show."
In the initial stages of building the set, Heneghan said that the crew started out by putting platforms together to form the different levels of the set. More precise details, such as the stained glass light pillars, weren't dealt with until later in the process.
Once the set was built, the next stage was lighting the show. Richard Winship, stage crew manager, believes that lighting is crucial to setting the mood of the act.
"Lighting is a challenge because every act in the show […] is its own show," Winship said. "I try […] to make them unique in their own way based on what they are and what kind of act it is and try to set the mood for them."
Because of the amount of commitment put into the show, Winship believes that this year's crew has worked harder than any other crew in years past. Despite the work, the stage crew doesn't do it for recognition, according to Winship.
"The dedication of this group [can't be] surpassed," Winship said. "We don't really care about the recognition. […] We care about doing the job, about working together, being together and being friends, and that's what makes stage crew special."
Because of the various responsibilities they have to the show, stage crew plays a significant role in making the V-Show the best that it can be, according to Dietrich.
"Without us, it'd be very hard to have a V-Show," Dietrich said.