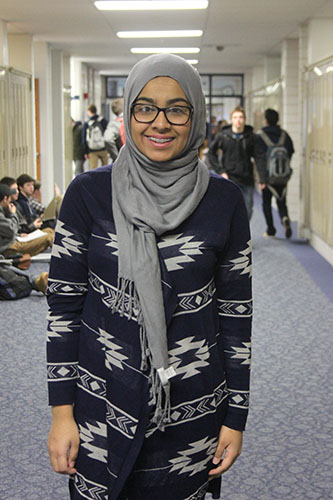 South's Muslim Student Association (MSA) co-President Saarah Bhaiji has heard many questions about the Islamic faith. Some were thoughtful, and others were as follows: "Do you wear that headscarf in the shower?" "Has your dad ever seen your hair?" "Are all Muslims terrorists? "Was your grandpa Osama bin Laden?"
According to Bhaiji, students who participate in MSA have an opportunity to get their questions about the Islamic faith and culture answered. Every Wednesday they meet to discuss Islam.
"[Our sponsor] is really pious," Bhaiji said. "And if we ever have questions that regard Islam she'll answer them for us."
According to Shanoor Shahzad, sophomore MSA-participant, one of the greatest misconceptions is that MSA is strictly a religious club.
"Our purpose is to raise awareness," Shahzad said. "Because of current events regarding ISIS, people have had the wrong idea about Islam."
In another attempt to raise awareness and educate students of South on the religion and culture of Islam, according to Bhaiji, MSA traditionally hosts a seminar for freshmen.
"We are going to make a video for the freshman for the Muslim unit," Bhaiji said.
Other than eating and socializing, MSA often has enriching discussions about the events pertaining to the Middle East.
"There isn't a set schedule to the meetings; its very chill," Shahzad said.
One of the biggest challenges for MSA has been gaining active participants. According to Bhaiji, there are only about twenty students actively participating in MSA. One strategy of gaining more members was hosting a bake sale, Shahzad stated.
"We had a bake sale […] and that was to raise money," Shahzad said. "With that money we're going to get t-shirts. People are going to look at [those t-shirts] and want to come to the meetings potentially."
According to Shahzad, she did not know the club existed her freshman year. Shahzad also encourages others to become members.
"Usually it's freshmen scared of their reputations," Shahzad said. "Most of them aren't very religious, [or] they don't practice very often, [and] they are still Muslim, but [MSA] isn't just about Islam. It's a club where you come to hang out […] Some students don't come because they don't want to get a 'title' [of being Muslim]."
However, according to Bhaiji, the students at South are very accepting of all members of the Islamic faith, not only those participating in MSA.
"There were only a couple instances [at South] that we as a minority were being treated like a minority," Bhaiji said. "But otherwise South is great, they're so loving and caring. It's like they're open to every one of our needs. They even gave us a prayer room."
While the students at South are accepting of students of the Muslim faith, Bhaiji admits that there have been instances of racial profiling. She ultimately blames this on a lack of education on the Islamic faith. She encourages non-Muslim students to join MSA to learn more about the culture.
"If you guys have questions come in," Bhaiji said. "We're an open book."