Child development class provides real life experience with kids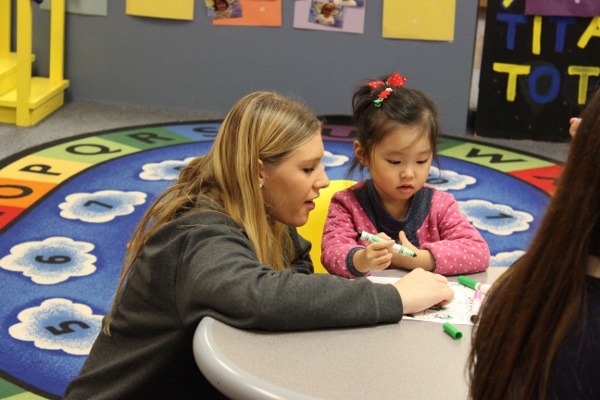 Around this time, South is scattered with teen parents. They haul their babies around –flour sack babies that is– traveling from class to class. This is one of the projects for the South elective Child Development taught by Kim Kiraly.
This elective consists of four levels. During each level, students learn new skills. According to Kiraly, the students learn about the fundamentals of development as well as how kids learn and grow from ages one to nine. As they progress to higher classes, they are able to work with the Titan Tots, and beyond that they have the opportunity to teach first grade classes at Winkelman Elementary School. Before they can teach, the students need to know how to effectively educate the kids.
"Writing their name, cutting papers [and] identifying shapes and colors are all skills that don't magically happen for children," Kiraly said. "Understanding what time of their life is appropriate to be learning the skills comes in [level 161]. In 261, 361 and 461 they learn how to support the students learning those skills."
According to Kiraly, they also need to know how to write a clear lesson plan. A good lesson plan consists of goals that the kids strive to achieve. For example, one student-created lesson involves constructing paper penguins.
"They're making a penguin project, but really what the students are teaching them is how to identify the different shapes that will eventually become the penguin," Kiraly said.
After students have the fundamentals down, they are ready to work with the kids in Titan Tots. According to Kiraly, Titan Tots is a laboratory school, which means it is there to serve the purpose of teaching the high school students. It is very beneficial for the high schoolers, letting them learn about children and then being able to see it first hand.
According to Kiraly, taking this class and getting the opportunity to work with the kids gives the high schoolers a preview of what working with children in their future will be like.
"It's giving them a huge head start for college because for most students by the time they get to Child Development [361] or [461] they're thinking heavily about working with children," Kiraly said. "Whether it be education, psychology or social work, they need to know all of these things."
Junior Kasia Przybylska said Child Development has put being a teacher in perspective for her, and now it's something she can see herself doing.
"I can actually work with the kids and see what it's like," Przybylska said.
According to junior Reshmee Dhorchowdhury, taking this class has had positive effects on her as she learned much more than how to work with kids.
"It has made me more responsible because [I know that] someone's education is in [my] hands," Dhorchowdhury said.
Not only is the class hard work, but according to Dhorchowdhury, the kids are enjoyable.
"There's this kid named Andrew and he can barely speak any English, but one thing he can do is run and give anyone a hug," Dhorchowdhury said. "That's one thing [that sticks with us,] is how affectionate the kids are towards us."
According to both Przybylska and Dhorchowdhury, not only is this class informative, but it's enjoyable to work with the other students and adults. They strongly suggest this class to everyone, even if they aren't interested in being a teacher or working with kids.
"Everyone is like a family, [and] we are all so comfortable with each other and close," Przybylska said.
Over at Winkelman Elementary School, the feeling of family is still present but the role of the high schoolers is slightly different. According to junior Jessica Hoker, from Monday to Thursday she teaches math and reading to first graders for half-an-hour.
"The first day I was really nervous because I didn't want to mess anything up," Hoker said. "Once I got the swing of things [it got easier]. They were doing things like addition and subtraction, so that's something I have a comprehension over. It's a lot of fun, [and] I plan some lessons, but usually I teach."
This opportunity has been something Hoker has enjoyed, and it has made her realize she wants to do it in the future.
"They get really excited and that makes me feel good and that's part of the reason I want to go into education, so I can work with kids and help them learn but also cope with life struggles," Hoker said.
According to Kiraly, this system is beneficial for the kids as well as the high schoolers. They are able to have more one-on-one time because of the low student-to-teacher ratio. This benefits the children's learning experience and allows them to connect with the older students.
"[The high schoolers] know if [the preschoolers] are having a good day or bad day and they're able to differentiate their teaching to make sure that kid is getting what they need that day," Kiraly said. "There's a great relationship that's built between the teachers and the preschoolers."
About the Contributor
Grace Brunzell, Staff Writer
Grace Brunzell has been writing for The Oracle since the fall of 2012. She is currently a staff writer for Features. She has always loved writing and finds...