Meyer's passion for music continues after retirement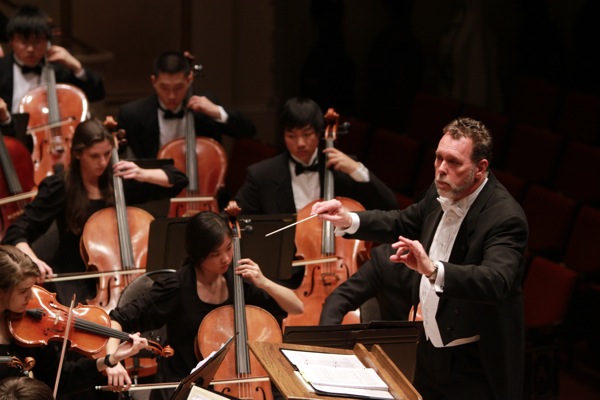 Evin Billington, co-editor in chief
September 30, 2011
After directing the Glenbrook orchestras for 30 years, Carl Meyer has decided to move from full-time teaching to advising the orchestra and its new directors.
In Meyer's three decades at the Glenbrooks, he has gone on trips all over the country and overseas, played on the radio, performed at Orchestra Hall with the Glenbrook Symphony Orchestra (GSO), and taught thousands of students. GSO, an auditioned group of both North and South students, has nearly 150 members this year.
Though Meyer retired at the end of last year, he is still a part of the orchestra.
"I want to continue to help, I want to see other people be incredibly successful," he said. "I want [directors Kristen] Wagner and [Jason] Heath to enjoy the same successes that I've been able to enjoy and possibly see it be even more successful.
Meyer is not leaving completely, but Heath was hired this year as assistant orchestra director to help Wagner, who has taken over Meyer's job after spending five years as assistant director of the orchestras.
Before she came to the Glenbrooks, Wagner performed professionally and taught overseas.
"I was certified and I taught before, but the reputation of the GSO is what brought me here," Wagner said. "I would rather be an instructional assistant here, in this program, than the head of a program anywhere else."
Since he has spent five years directing the orchestra with Wagner, Meyer has no reservations surrendering the spotlight.
"I'm incredibly comfortable with her," Meyer said. "We have a wonderful rapport in how we approach this."
While adding a new person to such a close-knit dynamic can be daunting, Meyer and Wagner are excited, especially because Heath has worked with many professional groups and has taught for years.
"[Heath is] fun, he's good, he has a great sense of humor," Meyer said. "I'm incredibly excited about working with another person."
After getting the job, Heath explained he spent time with Wagner and Meyer discussing what they will do this year and came to concerts to become more acquainted with the program.
"If I didn't know better, I might think I was listening to a professional group [instead of GSO], so at that kind of level, it's a class that you rarely find at a high school," he said. "I've got so much respect for [Meyer and Wagner]. I think that they've done great things with that program […]. They're the kind of people I was hoping to get the chance to work with in my professional career."
He has conducted only four GSO rehearsals so far, but Heath is already enjoying working with his students.
"I have such a positive feeling about the students that I've been working with," Heath said. "It was obvious from the very first rehearsal how great this program is and what great things have been happening these past years."
Senior Anna Hirsch played violin her freshman year before switching to viola. She admits that she was  initially weary of Meyer's retirement but has developed respect for the new directors.
Hirsch explained that Heath fits in with the other directors and even brings his own unique style to the orchestra.
"He's got a fantastic personality and he's really easy to talk to," she said. "Even when giving critiques on playing, he does it in the best way possible, using a violin to demonstrate bowing techniques and vibrato to some of the freshmen who've never had experience with these."
In 1981, when Meyer was first hired, he was only a part-time orchestra director for  the Glenbrooks because there were only 30 orchestra students. According to Meyer, he never thought he would stay at the Glenbrooks for more than a few years.
"First of all, there was no way I was going to be here six years," Meyer said. "I saw myself standing in front of the Chicago Symphony […] I can't tell you at what point that I actually figured I'm never leaving this place, but I realized what I could do here was probably more important than what I could do any place else, [which was] exposing high school students and trying to get high school kids to feel good about playing in an orchestra and feeling good about themselves."
Meyer was the sole orchestra director for almost 20 years before the district added Wagner, under whom the orchestra has quadrupled in size.
Meyer wants GSO to be a place  where students are proud of what they do, whether it is through the music they play or the friendships they make.
"I hope that the vast majority of the students in the Glenbrook Symphony   Orchestra enjoy being there," Meyer said. "Very early on, we try to create a place where we could be proud of what we did, […] but it also had to be a place where people wanted to come and enjoy the community or the camaraderie."
Daniel Barber, now a freshman at Valparaiso University, was in GSO for all four of his years at South.
"Part of the reason I enjoyed orchestra so much was the fact that he had us so serious about the music, but at the same time there would be moments where 150 people would be laughing," Barber said.
Barber received a violin scholarship and is considering music and conducting as a career. He credits this to Meyer's influence.
"[…] Meyer has inspired and instilled a love of music in me that I don't think many other people could ever come close to."
Meyer is not leaving the Glenbrooks; he is simply stepping back to allow new teachers to experience the job he loved so much. In the coming years, he hopes to work with Wagner and Heath to continue GSO's excellence and improve.
"I hope everybody can find something in their life that they can feel as passionate about and enjoy as much as I've enjoyed the past 30 years," Meyer said. "I've got the best gig in the whole world. I get to do music every single day."