Instant Family sparks awareness for foster care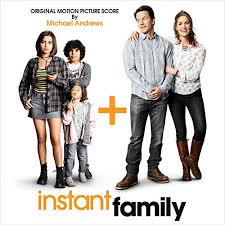 Caroline O'Shaughnessy, asst. a&e editor
December 13, 2018
Hang on for a minute...we're trying to find some more stories you might like.
There are roughly 438,000 kids in the U.S. foster care system on any given day, ranging in age from new born to 17 years old, according to children'srights.org. 
One-fifth of those kids will become homeless by age 18. Less than three percent will earn a college education. Seventy-one percent of the young women will become pregnant by the age of 21. And one-fourth will experience Post Traumatic Stress Disorder (PTSD), according to children'srights.org.
Children fall into the foster care system for a variety of reasons, which is the premise of the movie Instant Family. Sometimes kids are removed from their homes in instances of parental substance abuse, physical abuse, sexual abuse, neglect, or an unsafe/unfit environment, for example.
Instant Family is based upon a true story and focuses on a growing family's first experience with the foster care system. When a childless couple, Pete (played by Mark Wahlberg) and Ellie (played by Rose Brynn) decide they want to start a family, they look to the foster system for an opportunity to adopt a child. Completely ignorant to the challenges they will face, they leap blindly into their journey to build a family and quickly realize the commitment is larger than they anticipated.
Their original hope was to take in one young child, but that wasn't the outcome. They invest themselves in "foster family" training and child proofing their home, but Pete and Ellie soon find the solutions to the challenges they face cannot be taught in a class.
At a foster care event they unexpectedly connect with a 15-year-old girl named Lizzy (played by Isabela Moner). Intrigued by the hurt in her eyes, as well as her untamed attitude, they decide to take her in. They later come to find out she has two younger siblings, who they also embrace into their family.
Faced with teenage angst, PTSD and behavioral problems from their children, Pete and Ellie must band together to create a family, something Juan (Gustavo Quiroz), Lizzie (Isabela Moner) and Lita (Juliana Gamez) have never truly known.
This movie celebrates what it means to be a real family. It underscores the importance of loyalty, patience and unconditional love. It shows that family is not defined by where you come from, it is defined by who comes into your life and refuses to leave.
While this movie does view some of the hardships of the system through a "Hollywood" lens, it stays true to its message. Interspersed throughout the movie are moving stories from the foster care system, and the closing credits are endless loops of real family pictures.
Instant Family is one of the best movies I have seen in a long time. Shining a light on a typically overlooked issue, this film focuses in on the reality of the foster care system and the children who wait there, while incorporating well-placed humor and a beautiful message about love and acceptance.
I'd recommend this movie to anyone. Instant Family was extremely moving and truly showed what family is all about. Family is not about having the same last name or the same skin color. Family is about who shows up day in and day out. Through Pete and Ellie's journey we come to understand: family is determined by commitment, loyalty and, above all else, love.