Zeitgeist captures childhood experiences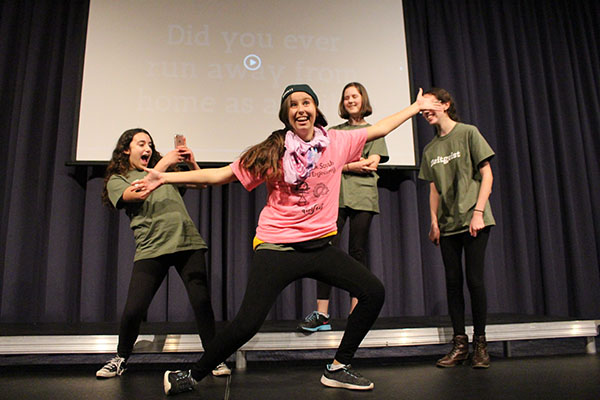 Remember the first day of kindergarten, grasping onto parents' legs, begging not to enter the forbidden and scary classroom? How about getting lost between passing periods and being late to class during the first week of freshman year? This year's Freshman Sophomore Play expressed both the fun and stressful stages of growing up from kindergarten to high school.
Every year the Freshman Sophomore Play is called Zeitgeist and the cast selects a theme that relates to the students' interests and society. According to Director Mark Maranto, many of the students wanted to express the life of a typical teenager and the conflicts they overcome along the way. To broaden their theme, the cast agreed on the stages of  growing up.
"[The play] is pretty much trying to answer the question, 'What experiences are necessary for people to go through to grow up?' [and] 'What are the fun parts about growing up and what are the really painful, awkward, difficult parts of it?'" Maranto said.
Juniors Megan O'Loughlin and Michael McNeela were the play's assistant directors. According to O'Loughlin, they decided on the theme of growing up because of its relatability.
"[The cast] ended up picking growing up because that is constantly happening in our communities," O'Loughlin said. "We see each other growing up and even when you graduate high school and college and you start to live in adulthood, you are still constantly growing."
Maranto explains that the play consisted of a series of cast- written short skits that were all related to the theme. The play included skits about summer camp, test anxiety, dressing up for Halloween, and others. Maranto says that several of the scenes dealt with one common dilemma that kids deal with.
"A lot of the scenes deal with the tension between immature and mature behavior and when are you expected to cross over from immaturity to maturity," Maranto said.
Although the majority of the plays showcased by the Fine Arts Department are scripted plays, Zeitgeist gives cast members an opportunity to write their own lines based on their liking. In return, students get to act as individuals. Maranto believes that the freedom sudents have in writing the  script insentivizes them to work harder.
"[The script] is the students taking on the ownership of actually writing it themselves," Maranto said. "I think [the cast's] investment in it is stronger because it's their material."
Before even deciding a theme and beginning the writing process, Maranto and O'Loughlin made sure the cast was in a welcoming environment. As show week approached, the cast aimed to have well coordinated rehearsals and review lines and stage directions.
"When we start rehearsing the full show and have lines memorized, [rehearsal] does get a little chaotic because it is a shorter amount of time than people think, so it does get a little hectic," O'Loughlin said.
According to sophomore actress Hannah Glaser, throughout show week, some of the cast members and directors were nervous about the outcome of the play. Glaser explained that she felt a mixture of both excitement and fear for the play coming near. However, Glaser still believes that she pulled through in her performance.
"I get stage fright before I go on stage, but when I'm on there I'm ready," Glaser said.
According to freshman actress Clara Blackwell, although the cast did forget many lines, they made sure to play it off.
"We improvised a lot," Blackwell said. "I don't know if the audience could tell, but if we forgot a line, we had to make it up on the spot."
Once the show came to an end, the cast was very sad to say goodbye and no longer see each other at rehearsals. According to Glaser, the cast had such a great time together that they still keep in contact to maintain their close relationship. O'Loughlin assembled a video of the cast's favorite memories and bloopers to reminisce.
"[O'Loughlin] would randomly film [us] and sometimes you knew if she was filming, sometimes you didn't, so not all of us knew what was going to be in it besides her," Glaser said. "It was still a pleasant and funny surprise for all of us."
According to Blackwell, she felt the performance overall was a huge success as the themes of growing up presented in the play connected with audience members of all ages.
"Even though [the cast] did mess up a few lines here and there, I think what made the play a success was the fact that we were able to connect to both the teenagers and adults of the audience," Blackwell said.