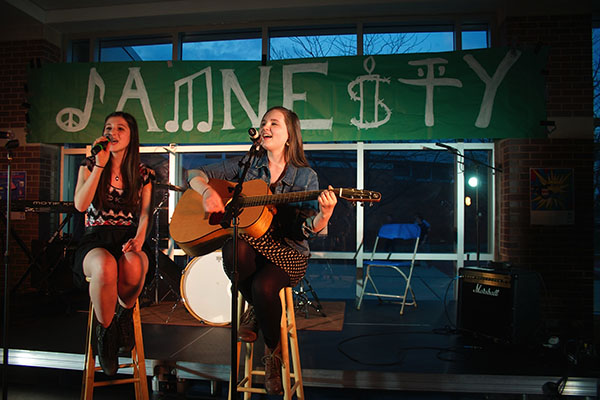 One night a year, South combines live music and the effort to improve human rights at Jamnesty, an event held by the Stand for Peace (Stand) and Amnesty International clubs. Jamnesty combines music, art, speech and poetry to raise money for the many causes supported by the two clubs.
Held on April 17, it gave students the opportunity to speak freely and share their music in a very intimate and personal setting, according to Stand sponsor Matthew Whipple.
It served as the final event of Peace Week, a week full of events planned by Stand. Other events in the week included a die-in, which is a form of political theater.
Maeve Plunkett, sophomore leader of Stand, has been helping to raise money this year that will be going towards Matanya's Hope, a cause that Stand is currently representing, where they sponsor a young Kenyan student named Purity. The club has been working to benefit the cause all year, and Plunkett believes Jamnesty is the perfect platform to help the cause.
"I'm looking forward to hearing the performers and meeting a lot of new people that are interested in making the world a better place," Plunkett said before the event. "I hope that's why people come to it and not just because it's a concert, but because there's actually a cause behind it."
Reshma Rajan, senior leader of Amnesty International, is hoping to encourage the audience to take action. She considers the speeches to be an essential part of the event that help spread a message among all of the fun at Jamnesty.
"In between songs some of us get up there, and we give a little snippet of awareness," Rajan said. "Either Amnesty or Stand gives the audience information about things going on around the world, so you get to have fun but also learn something. This is important because it gets us closer to breaking the 'Glenview bubble.'"
Plunkett believes that the diversity of talent is the most unique aspect. The teamwork and cooperation that is needed in order to make the night successful is what she accredits to making it such an amazing event.
"It's a really cool fundraiser, because it gets to show everyone's talents," Plunkett said. "We have people who are really good at music who get to perform, people who read poetry and then the people in Stand and Amnesty who are behind scenes, pulling together all the publicity and the artists working on the banners."
One of the performers of the night was sophomore Dahlia Maleh. She has not performed or attended in previous years, but she performed a spoken word piece this year. The atmosphere of Jamnesty is what inspired her to want to audition, according to Maleh.
"I knew [Jamnesty] was going to be the place to do what I love, and I know the people there are going to appreciate it," Maleh said.
Junior Ethan Larson also believes Jamnesty has a unique environment. He enjoys getting to see the different acts and perform in the event.
"It feels more like an actual fun show to play," Larson said. "There's crowd movement, bands singing and stuff going on. People aren't stuck in chairs. There's a more realistic crowd."
This environment allows for a wider range of student performers, according to senior Ellie Britton. She appreciates that Jamnesty gives lesser known musicians the opportunity to showcase their talents.
"[I look forward to] seeing new faces," Britton said. "I like to see the [underground] bands that play in garages and come perform in Jamnesty."
Whipple also views Jamnesty as an opportunity to enjoy a variety of entertainment. Whipple believes the sense of community present at the event is what makes it such an enjoyable experience for everyone in attendance.
"It's a moment where we can be together and enjoy some quality entertainment," Whipple said. "We can really enjoy that while simultaneously recognizing that we can make the world a better place."
Though Jamnesty is a connecting force for lovers of music and poetry, it's still a fundraiser, according to Britton. She believes that its mission to bring awareness to issues around the world in a creative way is what makes it so successful.
"It's a really good night because… you know what you're supporting," Britton said. "Last year, Mr. Whipple gave a very moving speech about exactly what Jamnesty is and what they were doing. You get to have so much fun while supporting such a good cause."
Whipple hopes that many students leave Jamnesty realizing that they can have an impact in the fight for human rights and improve the world around them, even if it is in a very small way.
"At least a few people in that room will feel it for a moment and say, 'Maybe somewhere along the line, I can stand up for someone's human right,'" Whipple said. "That's a win. That's the purpose. That's the benefit of having the event."