Dance Show features variety of choreography, cultural music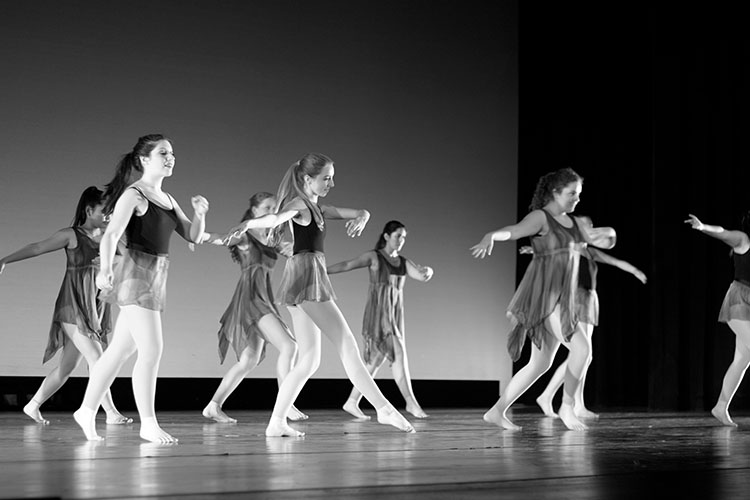 GRACIE SANDS & KIERSTEN TERESI, staff reporters
December 19, 2014
It is not every day that South gets the opportunity to see Orchesis, Poms, De La Cru and Latino Heat perform together on the same stage. All four groups were set to perform in the annual dance show, on Friday, Dec. 12. This year's theme was Allegro, which included a variety of musical and dance styles due to the diversity of the groups performing.
Senior Erika Szafranski, De la Cru captain, loved having the opportunity to perform in a show with the other dance groups. She especially looked forward to seeing Orchesis perform because they are the host of the show, and she knows how hard they worked to make the dance show possible.
"You get to see more of a diverse group because our school is so used to seeing only De La Cru and Poms, and now you get to see Orchesis and everything they've worked for, because this is their main show, and they put a lot of work into it," Szafranski said. "I like working with them and seeing what they come up with in their different dances."
Poms Captain Dani Levenson encouraged people to come out and support the dance show, because it showcased a variety of different styles. She hoped that the various types of dances would provide the audience with an amazing show.
"If you like to watch dance, it would be a good show to go to," Levenson said. "It's a lot of different types of dance. So it's interesting, because it's more of a variety."
Levenson believes that the lack of pressure that was present in the performance made for a much-needed change in pace for the team. Instead of competing against the same teams that they are used to, they could relax and support the other dancers.
"Usually we're competing against the same people all the time, so it's nice to have a change and see other people dance," Levenson said.
Patricia Moulakelis, coach of De la Cru, hoped that the audience would become involved in the performances on a deeper level. Her goal was that the audience would leave the performance with a different perspective of what De La Cru is all about.
"Dance show is not to get the crowd going; it's to get the crowd involved in the music and in their dancing," Moulakelis said.
Latino Heat, De La Cru, Poms and Orchesis each feature their own specific dance styles that are unlike the others.
"The audience can expect a variety of dances from Bollywood to a Polish dance," Orchesis Captain Jessie Wax said. "There is some ballet, jazz, hip hop, contemporary and tap. We are lucky to be able to share the show with Varsity and JV poms, De La Cru, and Latino Heat."
Although the Dance Show was a success, certain groups faced some difficulties. According to Brian Shaoul, Latino Heat director, Latino Heat initially had some trouble with their professional choreographer.
"One difficulty was just not being able to initially find a choreographer," Shaoul said. "My two leaders actually did the choreography, as they did in previous years. We were just anticipating to have a professional choreographer this year."
Junior Maya Patel, Orchesis member, recalled her years in the dance shows and the different themes and music that are featured in the show from year to year.
"I love it, because it brings a different aspect to the show and to South." Patel said. "The dance show altogether [featured] hip-hop, tap, jazz, lyrical, ethnic, ballet contemporary and more. You can expect all types of dancing from all the groups participating. Each year, there is a different theme, accompanied by new music numbers and songs."
Of all the weeks leading up to the show, tech week is the best part of the show, according to Patel. The final week is where everything is put together in preparation for the day of performance. Orchesis Coach Bonnie Lasky shared what makes the dance show, and Orchesis, so special.
"Orchesis is like a family," Lasky said. "The girls have really bonded and depended on each other."
According to Lasky, for Orchesis and the whole dance show in general, the collaboration between all of the groups is fantastic.
"It makes the show the Variety Show of Dance," Lasky said. "The audience loves all the different dance forms."
Wax shares what she loves the most about participating in dance show and what she looked forward to most prior to the performance.
"My passion is performing and dance, and I am so grateful that I have the opportunity to be a part of it," Wax said. "For years, South has put on their annual winter dance show, captivating the audience with groups showcasing their talents through all different sorts of dances. It looks like this year will not be any different."