'Voices Rising' recognizes young vocal artists for musical talent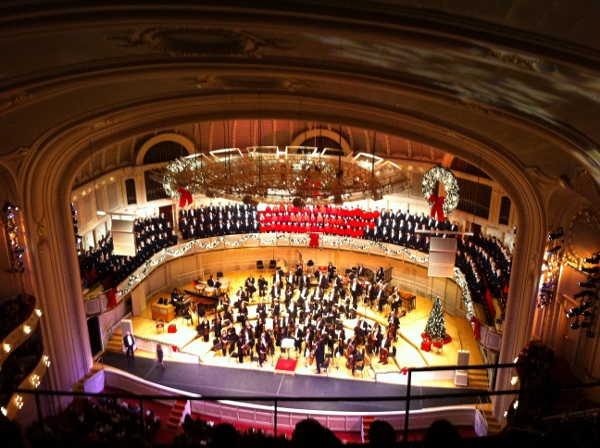 Mollie Cramer, Caroline Berg, staff writer
February 7, 2014
The choir group Voices Rising is a part of the organization Midwest Young Artists, led by teachers who strive to teach their students to appreciate and improve their voices. According to Stevi Marks, South choir director and conductor of Voices Rising, when people sing they're putting their most personal thing they have out there, their voice.
Midwest Young Artists is a renowned organization that nurtures the musical abilities of youth. Voices Rising, their children's group, recently sang at "Welcome Yule" at the Symphony Center with the Chicago Symphony Orchestra and Choir.
According to sophomore Jilly Herbert, Voices Rising member, she has gained experience and is proud that she was able to sing at the famed Symphony Center in Chicago, where the Chicago Symphony Orchestra performs.
"[Performing at the Symphony Center] is so much of a bigger step," Herbert said. "We were in bright red turtlenecks so we were just like, 'Boom!' I'm so happy that I got to do it even though it was nerve-wracking. I thought it was great to get the opportunity to be a part of."
According to sophomore Tina James, Voices Rising member, not only does she feel that being a part of Voices Rising creates opportunities for her, but also the challenges that come with being a part of Voices Rising have helped her become a better singer.
"I think it definitely helped out with singing because it comes with a lot of challenges," James said."[Some of the pieces] are definitely challenging, but I think that's one thing that's great about being a singer, just learning from all that. Especially with 'Welcome Yule', I got to learn a lot of stuff that I've never really been able to do."
Herbert felt that the group worked extremely hard in preparation for "Welcome Yule" and showed support and resilience in the process.
"We were working on the same thing for the whole practice and we finally got it and everyone was like, 'Yay we did it!' and then the next time we did it we messed up," Herbert said. "I was really proud of us because we all kept trying for it, and then even after we messed up we were just like, 'Let's do it again, let's try again.'"
Junior Lauren Deal, former Midwest Young Artist member, misses the overall passion and closeness the group had as a whole.
"The one thing I miss the most was the enthusiasm," Deal said. "Everyone involved was always so excited to sing and learn. Everyone sounded so great together, and we all became our own little family."
Herbert also noticed a family-like atmosphere within the group, and though she and James take on a leadership role in the group as the oldest, they take away from the experience as well.
"The greatest thing I got out of this was the confidence that every kid there had because I wanted to mimic that," Herbert said. "A lot of people were saying, 'Oh they must look up to you because they're younger than you,' but I actually think that I looked up to them because they were so confident."
According to Marks, Midwest Young Artists is known as a training ground for young musicians, and involvement in it is very valuable.
"It's an experience in the professional world," Marks said. "They're growing their musical skills and having to step up to the plate, and that's only going to make an artist stronger. Hard work very often has great rewards, and in this particular case, indeed it does. It provides a different kind of experience than we have here at school."
Herbert said that being a part of Voices Rising opens doors because it demonstrates her motivation to pursue her passion.
"Being in a choir helps you get to know yourself on another level other than how you learn, how you speak, this is how your voice is," Herbert said. "[Voice Rising is] just more learning about yourself and then pushing yourself to see how far expectation-wise you can get."