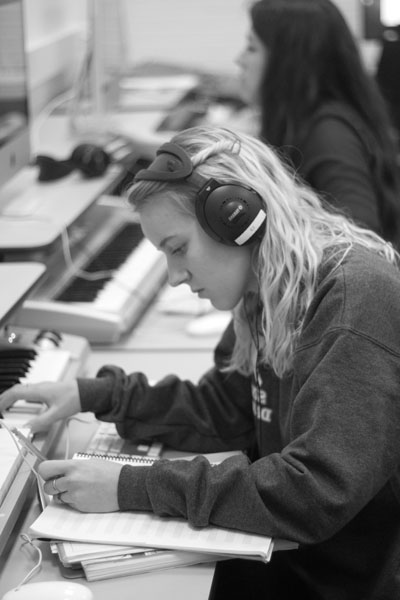 What makes a good song? There are the notes that form together to make a melody that may be good enough to be blended into a song. Listen more closely and hear chord progressions, key signatures and the elements that are synthesized to create the masterpiece. The Music Theory classes at South teach students how music meets science.
The Music Theory course starts with teaching basic musical knowledge including music history, composers, forms, stylistic tendencies and a lot of supplemental material, according to Stevi Marks, Music Theory 1 teacher.
"The assumption is that when we start, no one knows anything [about music]," Marks said. "We start at the very beginning going, 'This is a staff and these are the notes on the staff and let's practice writing those and writing the musical alphabet, draw a bass clef, draw a treble clef, draw a flat, draw a sharp,' and then two days later [students have already begun] writing scales. Then you just fasten your seatbelt and hold on."
Since the Music Theory classes speed through the information, Marks admits it can be difficult at times, but she relates the subject to other academics at school.
"Music theory is such a cumulative subject," Marks said. "Everything you learn influences everything else you learn, like the math and the sciences, because it really is a combination of math and science. I don't want that to scare people because I'm a terrible math student but I love music theory."
Just like people can apply math and science to their lives, according to Marks, musicians in the class are able to utilize the information they learn in Music Theory by composing their own pieces. Senior Nick Langas, a student in AP Music Theory 2, particularly enjoys this part of the class.
"Listening to other people's compositions is really fun to be able to hear what other people wrote and seeing what you can write," Langas said. "A lot of the times you have a lot of ideas and you want to incorporate them all, and you have to remember [the saying], 'Keep It Simple, Stupid,' like KISS, because once you try to get too fancy it ends up not sounding as good."
Students like Langas benefit from the information taught in this course, and although Langas does not think he will pursue a career in music, this does not stop him from taking the class. According to Marks, Music Theory is open to all those interested in music, whether as a career or hobby.
"Kids come in with a variety of backgrounds," Marks said. "Some are very serious like, 'I'm planning on majoring in music so I wanted to get some credit towards college and be in a more advanced class.' A lot of people are just like, 'I play guitar, I would like to be able to play better, read the notes and understand the relationship between the chords,' or 'I'm writing poetry, I would like to put music to it.' Everyone comes at it with a different perspective."
Junior Minji Will, a student in AP Music Theory 2 said she's considering music as a possible career path.
"I hope [to be] a music educator," Will said. "It's something I've been considering, and it's better to learn [music] theory before you pursue it in college and to know earlier than later, so [the class is] definitely beneficial."
After learning the different skills and other information she was taught in Music Theory, Will's perspective on music began to change. She was also able to apply what she learned to her involvement in choir.
"After I started learning the difference between intervals and all of those relationships, I could identify chords in the music we were singing," Will said. "It made music a lot more interesting to sing in choir because I had a deeper understanding of what we were singing."
Sophomore Chuck Quinn does not plan to make music a career, but the experience has changed his outlook of music. Quinn felt this shift in thought after taking Music Theory 1.
"Before I listened to something and thought, 'Oh that's pretty,' or 'That makes me feel good,'" Quinn said. "Now I can understand what's going on like, 'Oh it changed from a major to a minor key,' and 'Oh that's a weird chord progression, that's cool.' Stuff like that."
In opening students like Will and Quinn to new skills, according to Marks, Music Theory will definitely change a student's capabilities in music whether they maintain a career in the field or not.
"The thing I always say is that you will never listen to music the same way again because you learn to listen for some specific things," Marks said. "If all these kids [who take this course] are musicians, they're walking away with skills that are only going to make them better musicians."