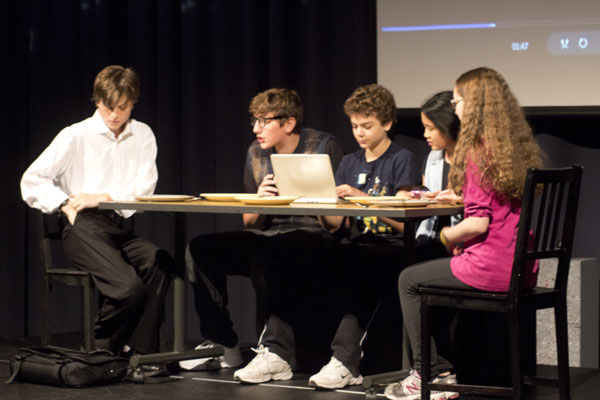 Many know of the intimidation felt as a freshman when trying out for a group or team. However, freshmen and sophomores interested in theater at South this year didn't have to worry about that.
The first ever freshmen/sophomore play, "Siri-ously", showed Oct. 18-19 in the Lyceum. According to Director Mark Maranto, the play explored the theme of technology, and included 16 freshmen and 4 sophomores.
The idea for the play came from Dr. Jim Shellard, director of student activities.
"A number of freshmen and sophomores had tried out for the Fall play and weren't able to get in because cast sizes are limited and typically the juniors and seniors have more experience," Shellard said.
Sophomore Landon Hartfield agreed, adding that the nature of the freshmen/sophomore play provides a low-pressure environment for underclassmen who may feel intimidated to try out for the fall play.
"It's a great opportunity because in reality, there [aren't] enough spots for everyone who wants [to do] the Fall play, so this is another opportunity for people to go in for their love of theater and experiment […] especially since most Freshmen feel intimidated trying out for the Fall play," Hartfield said.
According to Maranto, the play involved six weeks of writing, blocking, and practicing. He explained that his role was to come up with the theme, structure how the scenes should be written, as well as direct the blocking. However, the play was entirely written by the students.
Student Director Grace Cepeda said, "We would split into little groups [to work] and then [everyone] would watch [the scene] and give critiques, and we would talk about what we can do to improve it."
This process of writing the play involved exploring the theme of technology and how it affects society, according to freshman Katelyn Ornduff.
"[All the scenes] end up relating back to technology and its impact on society and if it's good or bad," Ornduff said. "Some of the sketches depict it as a good thing and some of them depict it as something that can tear friendships apart […] or be a bad thing."
According to Maranto, this theme was explained to about 60 audience members for all three shows. He explained how he felt the audience was engaged and responsive to the students' performance.
"[The students] really stepped it up," Maranto said. "They stepped up the game and really rose to the occasion. I was really proud and I think they did a great job."
Cepeda agreed, adding that she felt their performances went well, with only minor mistakes due to what she felt was a lack of preparation time. Maranto agreed, explaining how he felt they spent too much time on the writing aspect and not enough time on staging and memorizing lines.
"For next year I think we need more time," Maranto said. "It was an ambitious undertaking. It took more time than I first anticipated."
However even with the lack of time, Maranto feels that the students were able to rise to the occasion and give a good performance.
"It was a lot of fun […] for them and for me," Maranto said. "I look forward to seeing the students that were in the play performing in school because I think that they have a very bright future."